This article contains information on Egerton University, EU online and hard copy application forms for 2022/2023 admission as well as steps on how to Apply. It also contains the Egerton University, EU Application form download link as well as its online application where necessary.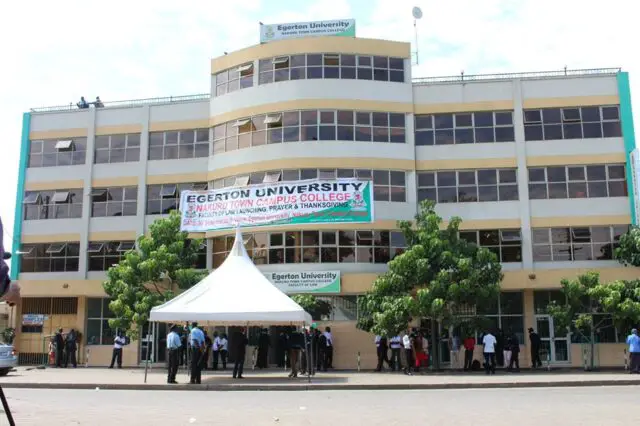 The Institution's management released Egerton University, EU Application form and criteria for admission into bachelor's, Postgraduate, Master's and PhD degree programs. It also includes the entry requirements into any of this programme.
EGERTON UNIVERSITY, EU ADMISSION APPLICATION GUIDELINES
The application form must be fully filled and the relevant academic documents attached. It must be returned to the Admissions Office of the University according to the set deadline dates obtained from the Admissions office.
Egerton University, EU Application Procedure
Egerton University Online Application Procedure
Simply complete the Egerton University Online Application Form stated below and upload all of the necessary documentation so that it can be processed by our administrative department.
Your application will be completed once all of the necessary fees have been paid.
Egerton University Offline Application Procedure
An Application Form can be downloaded on our website HERE
Application forms can also be collected in person from the college.
The Application Form must be accompanied by the required documents.
Additionally:
Application forms may be obtained from the Director, Board of Graduate Studies upon payment of a prescribed Non-refundable fee and returned duly completed. Where a candidate is to pursue the programme by Research/thesis only, the candidate will be required to present a Research Proposal together with the application for registration.
Where the candidate is to pursue the programme by Coursework, Examination and thesis, the candidate shall be required to submit a brief summary of the intended area of study together with the Application Forms. A full Research Proposal shall be submitted within three (3) months or registration.
All applications for registration shall be processed in the first instance through the relevant Department in which registration is sought. The Department shall then forward all such applications with appropriate comments to the Faculty/School Institute/Campus Board concerned for approval and onward transmission to the Board of Postgraduate Studies.
Before recommending a candidate for registration, the Department and Faculty/School/Institute/Campus Board concerned shall ensure that:
The proposed field of study is academically sound and can successfully be pursued and supervised.
There exist adequate facilities and resources for effective research
The appropriate fees have been paid.
Egerton University, EU Application Online Application Portal
To access the application forms online, you need to first visit the online admission portal with a valid e-mail address and an Access Code. If you already have an Access Code, you may continue with the login.
Egerton University PhD Application Requirements
The applicant is required to provide 2 copies of
Fully filled application forms-Downloaded from Egerton University website
Referee forms – At least two referee
Certified Copies of certificates and transcripts by the institution which issued them
Curriculum Vitae
National ID/ Passport
Passport size photographs
Receipt (Not Bank Slip) – Original and a copy –equivalent to KES 2000.00
Concept Note
Read Also:
Don't miss out on current updates, kindly like us on Facebook & follow us on Follow @EAfinder OR leave a comment below for further inquiries.