This article contains information on the New Airbnb Package Takes You to 18 Countries in 80 Days – 2019 Travels.
With the exception of Phileas Fogg and rich retirees with long bucket lists, traveling around the world in 80 days is something few of us regular folks will ever have the opportunity to do. But what if you could pull it off without blowing your life savings? Airbnb is making it possible for a bunch of lucky people with a spectacular new trip that'll take you to 18 countries on six continents in 80 daysfor just $5,000 per person.
As part of its new Adventures initiative, which will set up travelers with unique and "daring" two- to 10-day trips with hosts in destinations all across the world, Airbnb just unveiled a truly insane journey inspired by the classic Jules Verne novel that'll take a handful of lucky people across the world in a whirlwind 80-day trek this fall.
The (nearly) all-inclusive trip, which kicks off September 1 and wraps up November 19, will set each person back $5,001 and include accommodations in each locale, plus transportation between them. The only thing you'll be on the hook for beyond that is a round-trip ticket to the departure city (London) and money for certain meals and other incidental expenses along the way. Either way, if you do the math, that comes to a bit over $60 a night. Considering that's getting you a legendary round-the-world adventure, it's not a bad deal.
As you might imagine, the itinerary is jam-packed. The first week kicks off with stays in England, Romania, and Uzbekistan, then continues through the Middle East to parts of Africa, Asia, Australia, and both South and North America before making a stop in Iceland and finishing back in England. Here's a list of all 18 countries you'll visit.
England
Romania
Uzbekistan
Egypt
Jordan
Ethiopia
Kenya
Nepal
Bhutan
Thailand
China
Australia
New Zealand
Japan
USA
Ecuador
Chile
Iceland
The expeditions in each area vary widely, but include lots of once-in-a-lifetime excursions like glacier walking through Chile, an African safari, a trek through the Himalayan hills, and a float in the Dead Sea. Needless to say, you'll have plenty of Insta-worthy fodder to capture. You can scope out the full itinerary on the dedicated Airbnb Around the World trip page.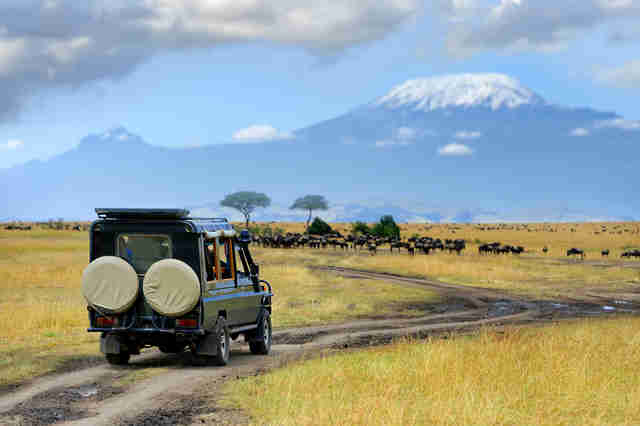 The $5,001 covers all of your accommodations (including homes, hotels, eco-lodges, campsites, boats, trains, and more) and transportation between all the destinations (you'll take flights, trains, boats, helicopters, cars, and fingers crossed, a hot air balloon). Also, since this is considered a "social impact experience," 100% of your money will go to a good cause. In this case, it goes to the Malala Fund, the non-profit founded by Nobel Peace Prize recipient Malala Yousafzai, which works to give every girl 12 years and older a free, safe, and quality education. The only other big expense you need to worry about is securing that round-trip ticket to London.
Airbnb hasn't disclosed exactly how many trip packages will be available in total, but the first batch of six tickets will go on sale on June 20 at 2pm EST via the special webpage. The second batch will be up for grabs on June 27, while the third (and final) batch drops on July 1. For exact release times you'll need to follow @airbnbadventures on Instagram, according to a spokesperson.
So, if this is something you'd absolutely jump at the chance to do, you'll want to keep your eyes peeled for the next few weeks.
Source: https://www.thrillist.com/news/nation/airbnbs-around-the-world-in-80-days-trip