Application for the PhD International Studentships in Molecular Biophysics in Sweden – 2022/2023. Entry is now open at the University of Gothenburg in Sweden.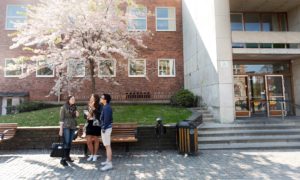 This studentship has been launched towards PhD studies in molecular biophysics at the University of Gothenburg. Applications for the same are open to all international and domestic applicants. The PhD candidates selected will be offered employment for four years full-time at the University of Gothenburg.
The University of Gothenburg is a university in Sweden's second-largest city, Gothenburg. The university is ranked 134th in Best Global Universities. With science as a foundation and teaching methods that engage, the university challenges people to enrich their lives and achieve a sustainable world.
The Scholarships are one of the most prestigious scholarships in the world. The aim of the program is to create a global network of future leaders committed to improving the lives of others.
PHD INTERNATIONAL STUDENTSHIPS ELIGIBILITY
Scholars are selected on the following criteria:
All international and domestic students can apply.
Students can apply for a PhD in Molecular Biophysics at the University of Gothenburg.
The applicants must have been awarded a second-cycle qualification.
The applicants must have satisfied the requirements for courses comprising at least 240 credits, of which at least 60 credits were awarded in the second cycle.
The applicants must have acquired substantially equivalent knowledge in some other way in Sweden or abroad.
The applicants must have a second-cycle (advanced-level) degree in a relevant* subject area in the natural sciences, or have completed studies for at least 60 higher education credits at a second-cycle level in relevant subject areas in the natural sciences, or have completed a corresponding program of relevance to the planned third-cycle program, in Sweden or another country, or have equivalent qualifications.
 The students must submit scores of the following English language proficiency tests:
TOEFL IBT – 79
TOEFL CBT – 213
TOEFL PBT – 550.
PHD INTERNATIONAL STUDENTSHIPS APPLICATION INSTRUCTIONS
Students interested in applying for the studentship must log in here to submit an admission application first. Students must include the supporting documents in PDF format in their application to be considered for the studentships.
Application must include:
Personal letter
CV
Diploma and Transcripts
Proof of completion of an English course
Two references
Only applications that have been submitted (with the International Office and registered on the website of the scholarship) before 19th January, 2022  will be considered.
Click here For more information and inquiries OR leave a comment below