We are pleased to announce that the application for the 2023 Allan Gray Graduate Programme is now open.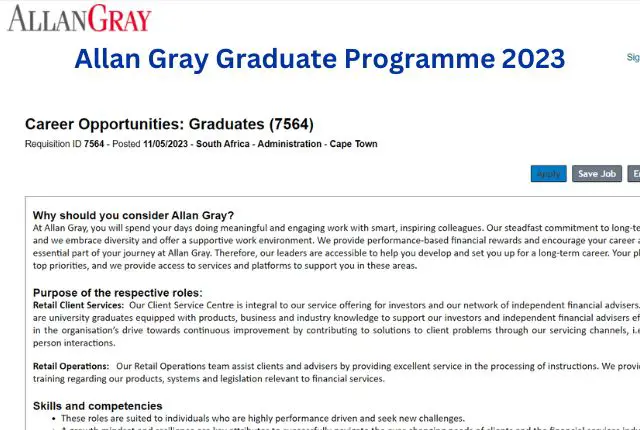 Are you a final year student or recent graduate with a passion for finance and investment? Allan Gray, one of South Africa's leading investment firms, is offering an exciting opportunity that could kickstart your career in the financial services industry. This isn't just a job offer – it's an invitation to embark on a journey of personal and professional growth, filled with learning opportunities and meaningful work. If you're interested in exploring more opportunities like this, check out the career opportunities on EAfinder.
Benefits of Working at Allan Gray
At Allan Gray, you will enjoy:
A Meaningful Work Environment: Engage in work that has a real impact, surrounded by smart, inspiring colleagues who are as dedicated to their roles as you are to yours.
Commitment to Long-Term Investment: Allan Gray's steadfast commitment to long-term investing isn't just about financial portfolios – it extends to its people too. The firm is dedicated to investing in the growth and development of its employees, fostering a supportive work environment where you can thrive.
Performance-Based Rewards: Hard work doesn't go unnoticed at Allan Gray. The firm believes in rewarding its employees based on their performance, ensuring that your efforts are duly recognized and rewarded.
Career and Skills Development: Allan Gray encourages continuous learning and development. The firm's leaders are accessible and ready to help you develop, setting you up for a long-term career.
Physical and Mental Well-being: Your well-being matters at Allan Gray. The firm provides access to services and platforms to support your physical and mental health, ensuring that you're able to perform at your best.
Allan Gray Graduate Programme Eligibility
To be eligible for this opportunity, you must:
Be a final year student or recent graduate currently completing an under or postgraduate Commerce or Business Science degree. Majors in Finance, Economics, Investments, Engineering, Mathematics, and Statistics are particularly encouraged to apply. If you're still deciding on a major, EAfinder has a helpful guide on choosing the right course.
Be a consistently strong academic achiever.
Be eligible to work in South Africa.
Allan Gray Graduate Application Procedure
To apply for this opportunity:
Visit the Allan Gray career portal.
Navigate to the job listing.
Follow the application instructions provided on the page.
Please note that relocation assistance will be provided to candidates relocating to Cape Town, subject to terms and conditions. If you're considering relocating, EAfinder has a guide on studying in South Africa that might be helpful.
Application Dates
The closing date for applications is 30 June 2023. Don't miss out on this opportunity to start your career at a firm where your work truly matters. Stay updated with the latest scholarship deadlines on EAfinder.