We are pleased to announce that the application for the 2023 Mercedes-Benz South Africa Graduate Development Programme (GDP) is now open.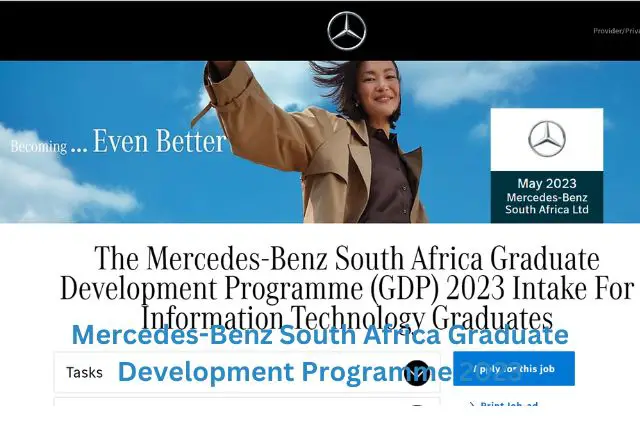 Mercedes-Benz South Africa, a renowned name in the automobile industry, is opening its doors to freshly graduated, ambitious minds. This initiative comes as part of their unique Graduate Development Programme (GDP) 2023, offering a golden opportunity for those who aspire to work within the realm of Information Technology. Mercedes-Benz, a brand associated with innovation, quality, and performance, seeks to infuse these very values into the career trajectories of their GDP participants​​.
The Graduate Development Programme is a prestigious, two-year initiative aimed at nurturing the ideas, ambitions, and potential leadership qualities of recent graduates. Aiming to shape the future of Mercedes-Benz South Africa, the program is dedicated to fostering a robust talent pipeline of young individuals who may eventually fill scarce skill roles within the organization​.
Benefits of the Mercedes-Benz South Africa Graduate Programme
The GDP offers participants various benefits that extend beyond mere practical exposure. It provides them with first-hand experience in their field of study, working within a world-class manufacturing facility and environment. Moreover, the programme also opens the door for participants to apply for positions within the organization. The combination of practical experience and the chance to work with a well-established brand like Mercedes-Benz forms a compelling package for aspiring IT professionals. Finally, participants will receive coaching and mentoring support throughout the programme, ensuring they are guided and supported in their journey​​.
Mercedes-Benz South Africa Graduate Programme Eligibility Criteria
The eligibility criteria for the programme are quite specific. Applicants need to have recently graduated within the last three years, and they must be South African citizens. Graduates from the Eastern Cape region will have an added advantage when applying for the programme. As far as educational qualifications are concerned, recently qualified graduates, with a full NQF 6 or higher, in the following career streams are eligible to apply:
Bachelor of Science (Information Technology / Computer Science)
Bachelor of Science (Data Science)
National Diploma in Information Technology (Software Development)
In addition, shortlisted applicants will be requested to indicate their interest in either one of the following IT career fields:
IT Business Analyst
Software Developer
Data Analytics/Data Science & Data Engineer
IT Operations Specialist in the fields of Networks/Data Center
Applicants should also have Grade 12, with distinctions in Mathematics and/or Physical Science, and a relevant Tertiary Qualification, with an average pass mark of 65%. Shortlisted applicants will be requested to write a technical assessment. Finally, candidates must have a valid driver's license​5​​6​.
Mercedes-Benz South Africa Graduate Programme Application Procedure
To apply, applicants need to include the following documents:
A CV as an attachment (ensure that the file size is small enough to upload, e.g., PDF)
Certified copies of Grade 12 and tertiary certificates, and the latest Tertiary academic record
A copy of the ID
Ensure a contact number and email address is provided
It is important to note that the provided email address is for query purposes only and applications sent by email will not be considered. For an optimal selection process, it's advised to attach all relevant documents. Late and incomplete applications will not be considered.