We are pleased to announce that the application for the 2023 PepsiCo HR Graduate Programme is now open.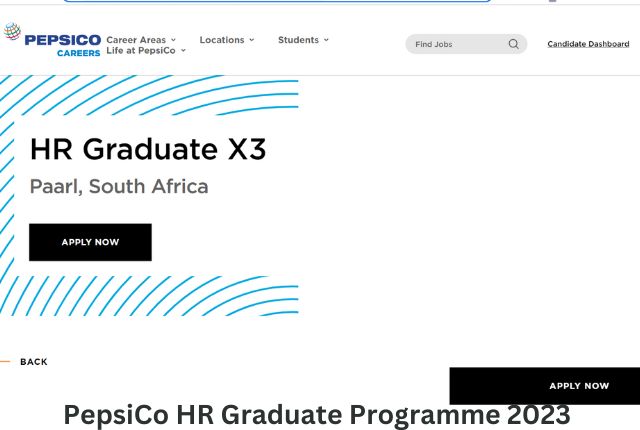 PepsiCo, a global leader in the food and beverage industry, is inviting ambitious and talented individuals to apply for their HR Graduate Programme in Paarl, South Africa. This is an exceptional opportunity for recent graduates to gain valuable experience, develop professional skills, and start their career in Human Resources.
PepsiCo HR Graduate Programme Benefits
Joining the PepsiCo HR Graduate Programme comes with a plethora of benefits that contribute to both personal and professional growth:
Global Sustainability: PepsiCo is committed to the future of our planet. As a part of their team, you will contribute to their thoughtful sourcing of crops and ingredients, promoting sustainable business practices.
Diversity, Equity & Inclusion: At PepsiCo, success is a collective effort. They believe in fostering an environment where all associates and the society they serve can flourish. As a graduate, you will be part of a diverse and inclusive workforce.
Innovation in Nutrition: PepsiCo is constantly innovating to improve their products. They strive to add whole grains, reduce sugar, and make other recipe changes without sacrificing taste. This commitment to nutrition and health can be a rewarding aspect of your role.
Healthy Living: PepsiCo cares about the well-being of its employees. They offer well-being programs to help associates maintain a healthy lifestyle, find balance, and get involved in wellness activities.
PepsiCo HR Graduate Programme Eligibility
While specific eligibility criteria for the HR Graduate Programme are not explicitly stated in the job posting, typically, applicants would need:
A recent degree in Human Resources or a related field
Excellent communication and interpersonal skills
A passion for HR and a desire to grow within this field
The ability to work collaboratively in a team environment
PepsiCo HR Graduate Programme Application Procedure
To apply for the HR Graduate Programme at PepsiCo, follow these steps:
Visit the PepsiCo Jobs page.
Review the job details for the HR Graduate Programme.
Click on the "Apply" button and follow the prompts to submit your application.
Remember to include all relevant documents, such as your CV, academic transcripts, and any other supporting documents that could strengthen your application.
PepsiCo HR Graduate Programme Application Dates
The application dates for the HR Graduate Programme are not specified in the job posting. However, it is advisable to apply as soon as possible. Positions at global companies like PepsiCo tend to fill quickly due to high demand.
For more information on similar opportunities, visit Eafinder or specifically for South African opportunities, check out Eafinder South Africa.