We are pleased to announce that the application for the 2023 Standard Bank Experience Design Internship is now open.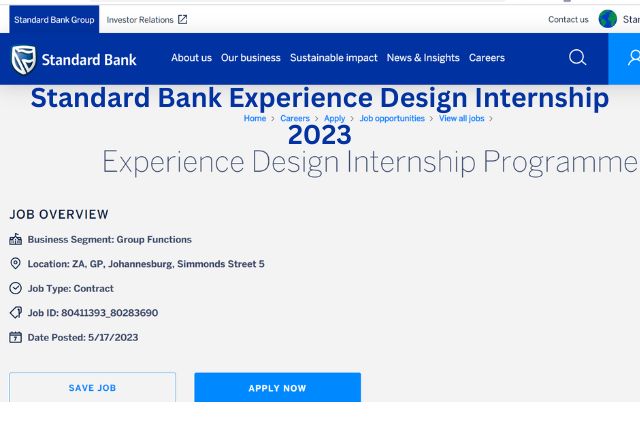 Standard Bank, a leading financial institution, is inviting applications for its Experience Design Internship Programme. This opportunity is located at their Johannesburg office and is designed for individuals who are passionate about customer experience and eager to learn and grow in the field of Experience Design & Strategy. The team is dedicated to delivering innovative, inclusive, clear, and consistent design solutions that are entirely client-centered.
Standard Bank Experience Design Internship Benefits
The Experience Design Internship Programme offers a plethora of benefits:
Innovative Design Solutions: You'll be part of a team that focuses on delivering innovative design solutions based on client-centered problems and future needs.
Learning and Development: The programme provides an opportunity to develop sought-after experience design skills and learn to use design thinking to create brilliant solutions for customers.
Diverse Team: You'll work with a team of talented experienced designers, researchers, and writers who are passionate about their work and delighting customers.
Career Opportunities: The programme aims to build a pipeline of talent in specific areas such as Customer Experience (CX) Design, Service Design, UX Research, and UX Writing.
Standard Bank Experience Design Internship Eligibility
To be eligible for the Experience Design Internship Programme, applicants must:
Have a completed Tertiary Qualification (Degree or Diploma) in experience design, technology, or behavioral and social science such as Information Studies, User Experience Design, User-centered Design, or Interaction Design.
Be a South African Citizen.
Be between the ages of 18 and 30.
Not be registered on any other internship.
Not be studying at any other institution.
Standard Bank Experience Design Internship Application Procedure
To apply for the Experience Design Internship Programme, follow these steps:
Visit the Standard Bank Careers Page.
Click on the "Apply Now" button.
Fill out the application form with your personal information, educational background, and work experience.
Upload the necessary documents, including your CV, certified copies of your qualifications, and a copy of your ID.
Submit your application.
Please note that only applications submitted through the Standard Bank Careers Page will be considered.
Application Dates
The job posting was made on 17th May 2023. Standard Bank typically leaves applications open for a few weeks, but the exact closing date is not specified. It is advisable to apply as soon as possible. If you do not hear back within two weeks of your application, consider your application unsuccessful.