We are pleased to show the step-by-step guide on the Zimbabwe Ezekiel Guti University (ZEGU) Online Application Guide for 2024/2025 admission.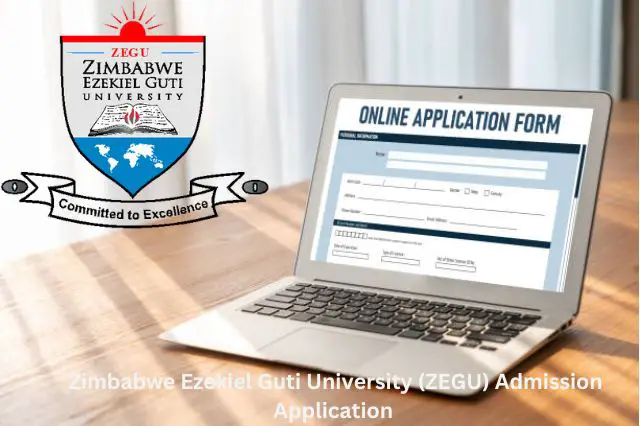 Zimbabwe Ezekiel Guti University (ZEGU) stands as a pillar of academic excellence and Christian values. Originating from the vision of Professor Ezekiel Handinawangu Guti, founder and president of Zimbabwe Assemblies of God Africa Forward in Faith (ZAOGA F.I.F), ZEGU opened its doors in May 2012. This private Christian University, accredited by the Zimbabwe Council of Higher Education (ZIMCHE), boasts a rich tapestry of programs that harmoniously blend academic rigor with a faith-based foundation. Located in the heart of Bindura, it offers modern facilities across various faculties, providing students with an environment conducive for holistic development.
ZEGU Online Application Eligibility
ZEGU welcomes applications from graduates, prospective students, and those seeking to further their academic journeys. Before initiating the application process, ensure that you have the necessary academic certificates and identification documents ready for submission.
Get more information on the ZEGU Admission requirements here
ZEGU Online Application Procedure
Online Applications
Start the Application:

Visit the official ZEGU Online Applications Portal.
Fill out the required personal details, including:

First Name
Last Name
Select Qualification Type
Preferred course choices (1st, 2nd, and 3rd choices)
Mobile Number
Email Address
Password setup

Saved Applications:

If you've already initiated the application, simply log in using your application number or email and the chosen password to continue or complete your application.
Offline Applications
Obtaining Application Forms:

Forms are available at the following locations:

ZEGU-Harare Campus, No 18836 Hampden Road Belvedere Harare (Behind City Sports Centre)
ZEGU Bindura Campus
ZAOGA FIF Headquarters 13A Powell Rd, Waterfalls, Harare

Submission:

Completed application forms, along with the necessary documents and proof of payment, can be:

Handed in at the aforementioned addresses.
Posted to: The Registrar, Zimbabwe Ezekiel Guti University, Stand No 1901, Barrassie Rd, P.O.BOX 350, Bindura.
Emailed as scanned copies to admissions@zegu.ac.zw.
Application Fee
Local Undergraduate Students: USD$10.00
Local Postgraduate Students: USD$15.00
Foreign Students: USD$50.00
Fees are non-refundable.
Get more information on the ZEGU Fees Structure here
Payment Methods
Bank Transfer (RTGS):

Bank: ZB Bank
Account Name: Zimbabwe Ezekiel Guti University
Branch: Bindura
Account Numbers: RTGS – 4536 772 451 200; NOSTRO – 4536 772 451 405

Ecocash:

ZEGU Merchant Code: 52131
Ensure to save any payment confirmation messages for future reference.

Cash & Swiping Services: Available at the respective campuses.
Application Dates
Intakes: Applications are open for both the February and August intakes. Ensure timely submissions to secure a spot for your desired program and mode of study (Full-time Day, Full-time Evening, or Block Release Study).