This article contains information on the CSSPS Placement portal and how to check your placement with it. It also contains the steps on how to buy eVoucher on the system for checking placement result as well as self placement. The CSSPS porta is enabled by the Ghana Education Service and can be accessed online anywhere and anytime.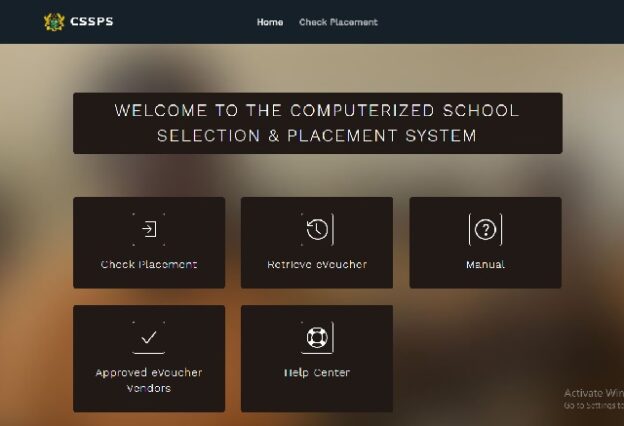 The Management of the Ghana Education Service(GES) has enabled a portal for checking placements, retrieving and purchasing vouchers as well as checking for approved voucher vendors. The portal is called CSSPS Placement portal which means Computerized School Selection and Placement System (CSSPS)
There are four (4) main programmes under the GES and these are:
Pre-tertiary education management including Headquarters Divisions, Regional and District directorates
Basic Education (BECE), comprising Kindergarten, Primary and Junior High Schools
Secondary Education comprising Senior high School (SHS) and Technical and Vocational Education Training (TVET)
Special and Inclusive Education
HOW TO USE THE CSSPS PLACEMENT PORTAL
GUIDE TO CHECK YOUR PLACE ON THE CSSPS SYSTEM
Visit the CSSPS website through the link below
Purchase and E-Voucher with mobile money
Click on 'Check Placement'
Enter your Index number and E-Voucher Pin: Enter your B.E.C.E index number followed by the year. E.g. (100000000019) and your 12-digit e-voucher pin.
GUIDE TO PAY FOR YOUR E-VOUCHER
Visit the CSSPS website through the link below
Follow the instructions on the page
Make payment: Choose your mobile wallet, and make a payment for your e-Voucher.
Note: Each Voucher is 5 GhC and can be used unlimited number of times by a single student.
GUIDE TO SELF PLACEMENT ON THE CSSPS SYSTEM
Visit the CSSPS website through the link below
Select Check Placement Module: Select the placement Module on the page to continue process.
Provide E-Voucher Pin and index Number: After successfully purchasing the E-Voucher, enter the E-Voucher's pin and your Index Number.
You will be directed to the Self-Placement Module: You will be provided with a selection of schools to pick from, based on your aggregate. Choose your desired school, as well as your residential preference (day/boarding).
Confirm and Print Changes
NOTE: A device with active SIM and internet service will be required to perform this task.
COMPUTERIZED SCHOOL SELECTION & PLACEMENT SYSTEM (CSSPS) PORTAL LINKS
Don't miss out on current updates, kindly like us on Facebook & follow us on Follow @EAfinder OR leave a comment below for further inquiries.