We are happy to present to you the University of Ghana, UG Congregation: List of Graduating Students – March 2023. The Vice-Chancellor on behalf of the University Council, Management Board and Senate has released the names of successful graduands.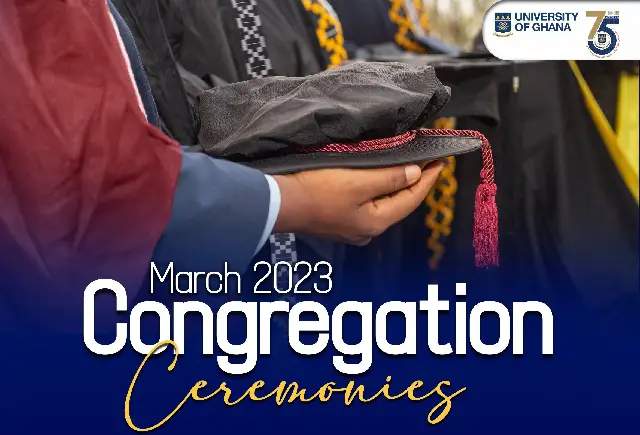 The first-ever University of Ghana, UG blended (virtual and in-person) graduation ceremony will be held for all final year students who have successfully completed their academic programmes of study during the 2023 academic year. This arrangement for the March 2023 Congregation Ceremony has become necessary in order to comply with the health safety protocols.
All successful graduands can check their names below or on the university website.
UG GRADUATION LIST FOR MARCH 2023 CONGREGATION
The schedule of official ceremonies planned for the University of Ghana March 2023 Congregation Ceremonies for Graduate, Undergraduate, and Diploma students who completed their programmes of study is as follows:
Students who have completed their programmes of study and wish to be presented during the March 2023 Congregation Ceremony are required to take note of the following:
Ensure that all outstanding financial and academic obligations to the University have been fulfilled. Contact the College Academic Offices here UG Congregation – College Units | University of Ghana for support relating to graduation.
Register online at Graduation (ug.edu.gh) from 8th – 16th March, 2023.
Graduands are required to pay a graduation fee of GH₵300.00. Other relevant information on the congregation can be found at https://www.ug.edu.gh/congregation.
Graduating students should note the following:
· To avoid traffic congestion on the day of the congregation, a park and ride arrangement will be in place, with shuttle buses available to convey graduating students to the venue and back to designated parking areas after the ceremony.
· Only graduating students and guests with official invitation cards will be allowed entry to the Congregation venues. All other family and friends of graduating students may follow proceedings online.
· There are to be no parties on lawns and other open spaces on campus after the ceremony.
Live-Streaming of Proceedings
As indicated, the proceedings will be streamed live on the University of Ghana website during the sessions. The links will be made available on the homepage for graduands and other interested viewers to access live.
Following the sessions, coverage of the ceremonies will be available on YouTube for replay at anytime.
Presentation of Graduands
Profiles of Graduands who indicated interest in participation in the Ceremony during registration and supplied the required pictures will be showcased in the video within the assigned session.
Conferrment of the degrees will be undertaken within each session.
Accommodation
Graduands who may need accommodation are expected to make their own arrangements at the Halls of Residence or Hostels on campus.
Examination Results
The results of the examinations are available from the offices of the respective Deans of Faculties/Schools during working hours.
List of Graduands
Check to confirm that your names appear on the list of graduating students. The list of graduating students is here Graduation (ug.edu.gh) and will be updated regularly. Graduands should check for their names using their University of Ghana ID numbers or surname and log-in to register for the appropriate session.
Any potential graduand whose name is not on the list is expected to visit his/her School immediately.
Verification Of Academic Records And Order Of Names
Graduands must ensure that all courses taken in their program of study have been graded and passed and that there are no missing courses or grades.
Punctuality 
Graduands must take seats by 8.00 am.
For any clarifications and more updates please visit the University website. All graduands will be provided with University souvenirs in the form of neckties for males and scarves for females and the Congregation Brochure, when they pick up their certificates.
Congratulations to all the successful graduands that made it out of University of Ghana, UG.
Don't miss out on current updates, kindly like us on Facebook & follow us on Follow @Eafinder OR leave a comment below for further inquiries.