We are happy to present to you the Presbyterian University College, PUCG 5th School of Graduate Studies (PG) Congregation: List of Graduating Students -2023. The Vice-Chancellor on behalf of the University Council, Management Board and Senate has released the names of successful graduands.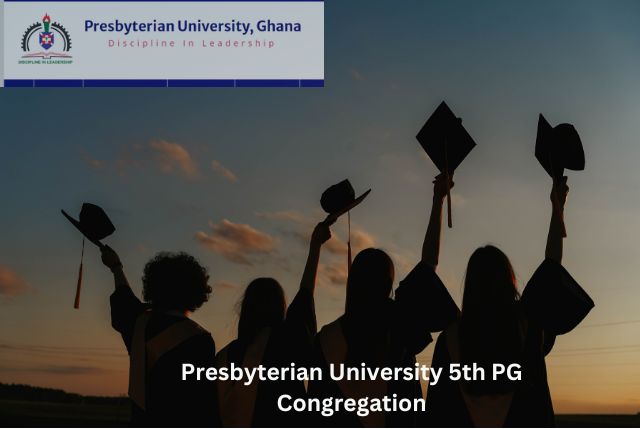 Presbyterian University Ghana is excited to announce the 5th Congregation Ceremony of the School of Graduate Studies. This important event celebrates the accomplishments of students who have completed their programs of study during the 2020/2021 and 2021/2022 Academic Years.
All successful graduands can check their names below or on the university website.
PUCG 5TH SCHOOL OF GRADUATE GRADUATION LIST FOR 2023 CONGREGATION
The 5th Congregation Ceremony is scheduled for Saturday, 29th April 2023, at 10:00 am (School of Graduate Studies : 5th Congregation Ceremony) [1]. The event will take place at the Presbyterian Church of Ghana, Grace Congregation, Akropong – Akuapem. All graduating students are expected to arrive on time to ensure a smooth and orderly ceremony.
Examination Results
The results of the examinations are available from the offices of the respective Deans of Faculties/Schools during working hours.
Clearance and Fees
Each graduand is expected to pay an amount of GHC600.00 directly into the following Campus Accounts of the University:
| | | | |
| --- | --- | --- | --- |
| Campus | Bank | Account No. | Branch |
| Okwahu | GCB Bank | 2191130004630 | Mpraeso |
| Asante Akyem | GCB Bank | 6221130003123 | Agogo |
| Akuapem | GCB Bank | 2091130003837 | Akropong |
| Tema | GCB Bank | 1701130001246 | Comm 2 |
| Kumasi | Zenith Bank | 6011013848 | Adum |
(Graduands are expected to forward the pay-in-slip to their respective Campuses' Finance office).
Every Graduand is expected to fill the clearance form at the respective Campuses and submit it with the graduation receipt before the issuance of certificate.
Certificates will be issued to Graduates after the programme on Saturday.
All students wishing to participate in the 5th Congregation Ceremony must clear themselves with their respective departments by 3rd April 2023. This includes settling any outstanding fees and fulfilling any other departmental requirements.
Distribution of Certificates
Certificates will be available for collection after the session. Graduands will be expected to show their ID cards and Clearance Chits for inspection before collection of the certificates at the Directorate of Academic Affairs.
List of Graduands
The final list of graduating students will be published by Monday, 17th April 2023. This list will include all eligible students who have successfully cleared themselves with their departments before the 3rd April 2023 deadline.
Verification Of Academic Records And Order Of Names
Graduands must ensure that all courses taken in their program of study have been graded and passed and that there are no missing courses or grades.
Punctuality 
Graduands must take seats by 8.00 am.
For any clarifications and more updates please visit the University website.
Congratulations to all the successful graduands that made it out of Presbyterian University College, Ghana.
Reference
[1] "School of Graduate Studies : 5th Congregation Ceremony." Presbyterian University, Ghana | Discipline In Leadership, Presbyterian University, Ghana, 24 Mar. 2023, https://www.presbyuniversity.edu.gh/site/school-of-graduate-studies-5th-congregation-ceremony/.
Don't miss out on current updates, kindly like us on Facebook & follow us on Follow @Eafinder OR leave a comment below for further inquiries.