This article contains information on free plagiarism checkers for students.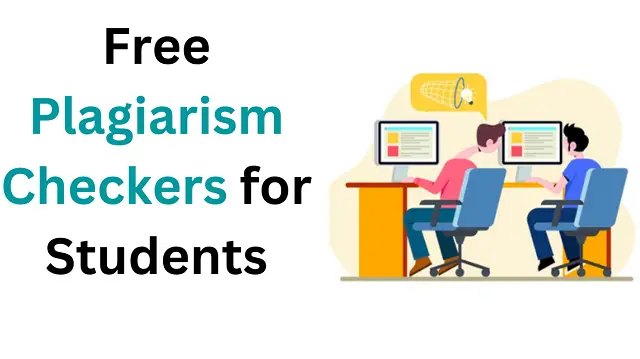 Using a plagiarism checker is one of the most important steps that every student has to necessarily take after writing an assignment, essay or research paper. If this step is not taken, then there are chances that the work could be submitted with some duplication in it.
Submitting plagiarized or duplicated content can bring about different sorts of consequences for the student. They can get a lower grade in the subject, get suspended or, if the case happens to be severe enough, even be expelled.
When checking for plagiarism, you have to make sure that you pick the right tool for the job. If you don't select a reliable tool, some percentage of duplication could slip by. In this post, we are going to look at five different plagiarism checkers that you can use for this purpose.
5 Free Plagiarism Checking Tools in 2022
A plagiarism checker is a tool that checks the text in question for similarities against previously published sources. It checks the whole world wide web, libraries, archives, and educational and scholarly databases. If it finds any similarity, it will show you the report telling how much similar your writing is to another existing source.
There are a lot of plagiarism checkers available online but being a student, free stuff is always easier to get. And limited pocket money is another obvious reason to find free stuff. Here, we will put you at ease because we are going to tell you about the top five free plagiarism-checking tools that you can use in 2022.
Prepostseo is one of the top-ranked plagiarism checkers available online. It's one of the best plagiarism checkers for various reasons. It has one of the widest databases where it searches the content similarity. Their database includes educational archives, universities' databases, libraries, and scholarly records.
Once you put any text in the box and search for plagiarism, it will deeply check the complete content. You can observe the entire process as it keeps updating you on what the tool is doing at the moment. It takes a couple of minutes to check the content for plagiarism and give a comprehensive report. You can see the links if it finds any similar content on any other website.
The plagiarism checker by Prepostseo is a great tool to use because it's free with certain limitations. It also offers premium plans but you can use the free plan whenever you want. There will be no expiry to the free package.
It's another top-ranked plagiarism checker which is available for free to students with certain limits which can be removed by purchasing their paid plan. It will search not only in all the available web pages but will also scan online libraries and databases to give you the real report of the plagiarism checking process.
Check-Plagiarism.com is a simple, fast, and reliable plagiarism checker for students because it gives fairly accurate results. And that's the reason for the popularity of the tool among students.
Paper Rater, as the name suggests, is an online tool that rates your writing according to your education level and the purpose of writing. Moreover, it checks for plagiarism in the submitted content. It's one of the popular writing assistive tools which can be a great help to students.
Paper Rater is one of the most popular and oldest plagiarism-checking tools. The UI of Paper Rater is kept so simple that a kid from 3rd Grade can use it without any difficulty. It lets you paste the text into the box to check for plagiarism.
If you're lazy to open the file and copy the text to check for plagiarism, then Paper Rater offers a better solution. You can upload your file directly but this is the feature that you can avail of only when you will have their premium plan. But plagiarism checking is free and that's what makes Paper Rater one of their favorite plagiarism checking tools.
Plagly is another free plagiarism checker for students. It claims to check and report plagiarism most accurately. Plagly has a wide database where it checks a given text to prepare a report for you. The only thing that pinches the users about Plagly is that you can't use it without getting registered.
But keep in mind that it's completely free so far. They won't ask you to sign up for a premium plan or pay to register. Simply sign up, verify your email and start using this free plagiarism checker.
5.   A Research Guide
A Research Guide is a website that thousands of university students use on a daily basis. This website was specifically designed and developed for students. It offers various tools to students. They also offer a plagiarism checker, which is free to use.
You can copy-paste text or you can upload the file directly to check for plagiarism. The process is simple yet with an additional step where you will be asked to insert the title of the content. Paste the text in the box or upload the file. Once uploading or pasting is done, tap or click on the "Check" button. This tool will check the content for plagiarism and you will get a comprehensive report.
Conclusion
Plagiarism is a very important factor that students have to be careful of when writing assignments. Most educational institutions take severe action against students who are caught plagiarizing. Being a student, you should never forget to spare a few minutes for checking your work for plagiarism with some free plagiarism checking tools We have tried to give you a brief introduction to the top 5 tools.
We wanted to tell you more about these tools but unfortunately, the time is short and that's why I could discuss just briefly all these 5 tools. Hope these tools will be helpful for you throughout your student life.