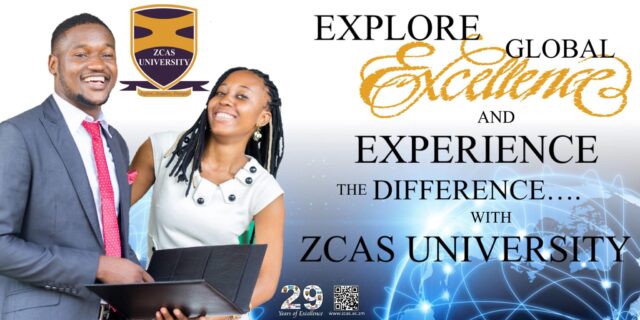 This article contains information on the ZCAS University, the ZCAS Application Form, and requirements for admission into Undergraduate Degree, Diploma Programmes and Postgraduate degree programs for the 2023–2024 academic year.
Applications are invited from suitably qualified SCHOOL LEAVERS, NON-SCHOOL LEAVERS and SPECIAL CASES.
ZCAS UNIVERSITY, ZCAS ADMISSION APPLICATION GUIDELINES
Applications for admission open from July to December for the January intake and February to May for the June semester. Each student is requested to complete one application form.
ZCAS Online Application Procedure
Select the Program Link on the Main Menu
Pick a School of your choice
Choose a program of your choice
Click on the "Apply Now" Button
Attach all the necessary documents
Click submit and wait for a confirmation email with login credentials.
How to Make Payment for the ZCAS Application 
Deposit the tuition fees and applicable student fees in the following accounts: Ensure that the name and student numbers are indicated on the deposit slip. Email the deposit slip to information@zcas.edu.zm or bring it in person to the student administration office.
---
KWACHA ACCOUNT
STANDARD Charter BANK
LUSAKA MAIN BRANCH
ACCOUNT NO : 01 001 113684 00
---
ZANACO ACCOUNT DETAILS
DEPOSIT TO BILLMUSTER ZCAS
REFERENCE: YOUR STUDENT NUMBER
---
POUND ACCOUNT
STANDARD Charter BANK
LUSAKA MAIN BRANCH
ACCOUNT NO: 28002 113684 00
SWIFT CODE: SCBLZMLX
---
US DOLLAR CURRENT ACCOUNT
STANDARD Charter BANK
LUSAKA MAIN BRANCH
ACCOUNT No.: 87 00211 368 400
SWIFT CODE: SCBLZMLX
All applicants whose application forms are received by ZCAS University will receive an acceptance letter from the Student Administration Office within 5 working days. All successful applicants will receive a letter that includes registration dates, information on registration, and tuition fees.
ZCAS University offers postgraduate courses at Masters and Diploma levels besides those offered at undergraduate levels. Prospective students should apply through the online admissions portal before the deadline date as communicated by the Admissions office. Late applications are only accepted if the program space allows. Application Forms can also be downloaded online for undergrads and postgrads and sent to the ZCAS University admission office.
Remember, applications are also made by filling out the application form online at the admissions portal.
ZCAS University, ZCAS Application Portal
To access the application forms, you need to first visit the online admission portal with a valid e-mail address and the required personal details. If you already have an Access Code, you may continue with the login.
Don't miss out on current updates, kindly like us on Facebook & follow us on Follow @Eafinder OR leave a comment below for further inquiries.