Learn about the various formats of writing a business letter with the information contained in this article.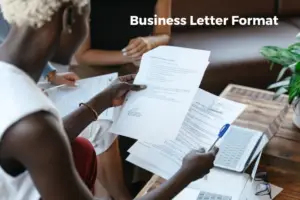 According to Wikipedia [1], a business letter is a letter from one company to another, or organizations and their customers, clients as well as other external parties. 
It is used by an organization or an individual for professional communication with other individuals or companies. A business letter sent directly to someone usually has more impact on them than an email because of its formal structure, content, and tone.
Examples of business letters are job offer letters, sales letters, investor interest letters, resignation letters, business circulars, letters of recommendation, etc.
There is no one-size-fits-all business letter format. In other words, there are different formats for business letters.
In this article, we will be looking at different formats of business letters. So if you have always struggled on the appropriate format of business letters to use, keep reading.
Elements of a Business Letter
There are different sections of a well written business letter should have and it includes the following:
Letterhead

Contact information

The date
Recipient's contact information
Opening salutation
Body
Closing salutation
Signature
1. Letterhead
Since a business letter is a professional/ official letter, most business letters usually come in a letterhead. 
A letterhead consists of your name or business name, phone number, name,address, and email address.
Using a letterhead helps your business letter look professional and helps the recipient find your contact information quickly, so adding a letterhead increases your chances of getting a reply.
2. Contact information
The next on the list of elements is contact information. The contact information usually contains details like name, address, phone number and email.
This is usually placed on the left-hand side of your business letter.
This element is only necessary for letters not written on a letterhead. This is because a letterhead contains contact information already.
3. The Date
This is the date when you are writing the letter. The date comes after the contact information, but if your contact information is included on the letterhead, your business letter starts with the date with the format below:
4. Recipient's Contact Information
Add a space after the date of the business letter and then add the recipient's contact information. This includes the following details:
Full name
Job title
Company
Address
City, state, ZIP Code
It should be left justified, regardless of which format you are using.
5. Salutation
The salutation that you use depends on your familiarity with the recipient. Common opening business letter salutations include:
Dear [First name], (to be used only you know the recipient)
Dear [First name Last name],
Dear [Ms., Mrs. or Mr. Last name],
To Whom It May Concern (only use if you cannot find a specific contact's name).
6. Body
The body of a business letter [1] is where you express your purpose of communication. When writing a business letter, it is very important to be concise. Therefore, it shouldn't be longer than three to four paragraphs. The body usually includes the following:
Isn't Paragraph: Friendly Opening
2nd Paragraph: The argument
3rd Paragraph: Closing
7. Closing salutation
The closing begins at the same vertical point as your date and one line after the last body paragraph. Capitalize the first word only. 
Example: Yours sincerely,
8. Signature
Whether it is a typed letter or not, endeavor to use a handwritten signature. Handwritten signatures [3] help in building a rapport with the recipient even if this is your first communication. If sent through an email, your first and last name can serve as a signature.
How To Format a Business Letter
A business letter must be formatted for clarity and ease of understanding. Here are some points to consider while formatting the letter:
1. Block or indent. 
A letter can either be in block or indented form. In the block format, all elements of the letter are left-aligned. But, if you want to use an indented format, right-align your address, date, closing salutation and signature. The rest of the elements will be left-aligned.
2. Font
When choosing fonts for a business letter, major things to consider are readability a d clarity. As much as it may seem appealing to think out of the box by being creative, avoid stylish fonts.
Use a professional font such as Arial, Calibri, Avenir, Times New Roman, Helvetica, etc. 
The font size should be between 10 to 12 [2]
3. Margins
Typically, a professional document like a business letter should have a one-inch margin. A one-inch margin on all four sides of the page is the standard..
4. Spacing
Spacing helps in making your business letter appear readable and professional. Hence, use a single line for the body of the letter. Use extra lines after your address, date, recipient address and salutation. Also, leave an extra line before the closing salutation.
Business Letter Format Template
Here's a business letter format template you can use when writing a business letter:
[Your full name]

[Professional title]
[Company]
[Street address]
[City, State ZIP Code]
[Phone] 
[Email address]

[Date]
[Recipient full name]

[Professional title]
[Company]
[Street address]
[City, State ZIP Code]
[Phone]
[Email address]
Dear [Recipient's Name],

[Introductory paragraph]

[Explanatory paragraph]

[Closing paragraph]

Sincerely,

[Signature]

[Full name]
Example of Business Letter
Check here for more business letter formats[3]
Conclusion
Writing a business letter is a straightforward approach with almost the same format. The only difference is in the mode of delivery, which can be via email or in person, either typed or handwritten (very rare). 
It is important to note that when sending a business letter via email, the format changes slightly. In a situation where the letter is to be sent via email, a subject line stating the purpose of the letter is required while the salutation, body and signature remains the same.
However, you may include the letter as an attachment or include the link to the letter in the body of the mail. Either of the two works.
Writing a business letter is quite simple. All it takes is proper understanding and guidance from articles like this.
References:
[1] Giving Questions. "The Basic Business Letter – Purdue OWL® – Purdue University." Purdue.edu, https://owl.purdue.edu/owl/subject_specific_writing/professional_technical_writing/basic_business_letters/index.html. Accessed 4 Apr. 2023.
[2] Gleeson, Patrick. "The Best Fonts for Business Letters." Work – Chron.com, Chron.com, 29 Aug. 2012, https://work.chron.com/fonts-business-letters-8930.html.
[3] Shweta. "Business Letter Format with Free Template." Forbes, 22 Aug. 2022, https://www.forbes.com/advisor/business/business-letter-format/. Wikipedia contributors. "Business Letter." 
[4] Wikipedia, The Free Encyclopedia, https://en.m.wikipedia.org/wiki/Business_letter. "Tutor Hourly Pay in South Africa." Payscale.com, https://www.payscale.com/research/ZA/Job=Tutor/Hourly_Rate. Accessed 4 Apr. 2023.
Don't miss out on current updates, kindly like us on Facebook & follow us on Follow @EAfinder OR leave a comment below for further inquiries.