We are pleased to announce that the MSUAS 2023 Graduation List and date are now out.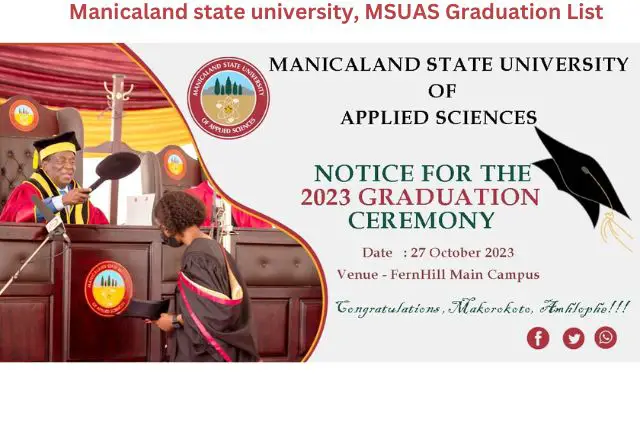 The prestigious Manicaland State University of Applied Sciences (MSUAS) is delighted to announce details about its 2nd Graduation Ceremony, slated to be an event marking excellence and achievement. Graduands, their cherished families, and valued stakeholders are cordially invited to partake in this momentous occasion.
Therefore, all successful graduands can check their names below or on the university website.
MANICALAND STATE UNIVERSITY 2ND GRADUATION LIST FOR 2023
Manicaland State University of Applied Sciences (MSUAS) wishes to inform graduands, their families and all stakeholders that the 2nd MSUAS Graduation Ceremony shall be held on the 27th of October 2023 at the Fernhill Campus.
---
Examination Results
Graduands are advised to ensure they have met all academic requirements and have been cleared for graduation. Check with the academic department for any uncertainties regarding the final results.
---
List of Graduands
The list will be posted as soon as it is approved. Continuously keep on confirming with your Department if you have met the Graduation requirements.
Any potential graduand whose name is not on the list is expected to visit his/her School immediately. All students aspiring to graduate are requested to ensure that they meet the requirements for graduation.
---
Verification Of Academic Records And Order Of Names
To avoid potential misrepresentations or errors during the ceremony, it's crucial to verify your academic records. Ensure that your transcripts, courses, grades, and any honors or distinctions are accurate. Check the order and pronunciation of your name for the ceremony to ensure its correct announcement.
---
Clearance & Fees
Graduation Fees:
The fee, covering academic regalia, stands at USD120.
Those who still owe the university any dues must clear all outstanding amounts before being permitted to pay the graduation fees.
The equivalent of the fee in RTGS will be announced on the 21st of October 2023.
Payment Methods:
Payments are accepted through the University's Nostro Accounts as detailed below:
FBC NOSTRO:

Account Number: 103 516 512 0002
Branch: MUTARE
Code: 8509
SWIFT: FBCPZWHA

ZB BANK NOSTRO:

Account Number: 4532 352 501 406
Branch: MUTARE
Code: 4532
SWIFT: ZBCOZWHX

STANBIC NOSTRO:

Account Number: 914 0001 940 847
Branch: MUTARE
Code: 3504
SWIFT: SBICZWHX
Ensure payments are made promptly, allowing for transactions to reflect in the University's account by or before the 25th of October 2023.
---
Academic Attire
Graduands should present themselves in an elegant manner, favoring dark shades. Upon settling the graduation fees, academic regalia will be available for collection from the Admissions Office. Collection times are set from 23rd to 25th of October 2023, between the hours of 0800 and 1600.
Rehearsals:
Attendance for the rehearsals is mandatory. They are scheduled at the Graduation Arena on the 26th of October 2023, commencing at 1400 hours. Ensure you are donned in full graduation attire for the rehearsal.