The Ndejje University, NDU 2022/2023 Admission requirement for all the courses at the undergraduate, diploma and postgraduate level is updated every year. Therefore, this article contains the full list of all the undergraduate and postgraduate courses coupled with their general requirements.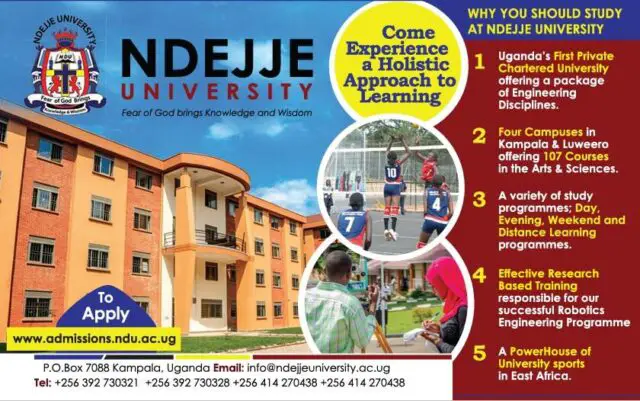 For admission into programmes of study at the Ndejje University, NDU for any first degree or second degree, an applicant must have the following requirements for a successful admission.
NDEJJE UNIVERSITY, NDU UNDERGRADUATE ADMISSION REQUIREMENT
Ndejje University has two principal avenues for entry into the University:
Direct "A" Level Entry
Candidates who have completed "A"- level are considered. They should have obtained two or more Principal passes at the same sitting at the "A" level examinations in any subject.
Except when specifically provided in special faculty requirements, all subjects offered by the Uganda National Examinations Board are regarded as approved subjects for entry.
Mature Age Entry Scheme
All candidates who may have attempted "A"-level and fail to get two principal passes but have relevant working experience, may seek admission to the University
Candidates who hold a Diploma with relevant qualifications (e.g. in education, business administration, etc) may seek admission. Candidates, who hold several certificates and have relevant experience, may also seek admission for the course relevant to their experience.
Also, candidates who fail to get principal passes at "A"- level or international students who don't meet the minimum entry requirements can be admitted to the "Advanced Certificate Course" for one year. When they score an average of 60% in the final examinations, they may be admitted for the degree course in the following year.
NDEJJE UNIVERSITY, NDU POSTGRADUATE ADMISSION REQUIREMENT
Entry requirements for a Postgraduate degree Programme
A Bachelor's degree or its equivalent from an accredited University in a subject or subjects relevant to the course applied for.
Duration of Programme: 1 Academic Year
Entry requirements for a Masters Degree Programme
A Bachelors' degree or postgraduate diploma from an accredited University in a subject or subjects relevant to the course applied for.
Duration of Programme: 2 Academic Years
Entry requirements for a DBA or PhD degree programme
Applicants must be holders of Master's degree or any other related programs from a recognized University.
Practitioner Experience: Applicants must have management experience of at least three years pre – or – post Masters.
Extension of Study Duration
With special permission, these periods may be extended as the Board of Graduate School may consider reasonable. Under no circumstances will a candidate be allowed to submit a thesis for examination unless he/she has been under regular and approved supervision for at least one year for a Master's degree.
Please note that applications are open all through the year.
Don't miss out on current updates, kindly like us on Facebook & follow us on Follow @Eafinder OR leave a comment below for further inquiries.