This article contains information on University of Lusaka, UNILUS online and hard copy application forms for 2023/2024 admission as well as steps on how to Apply. It also contains the University of Lusaka, UNILUS Application form download link as well as its online application form where necessary. It also includes the general entry requirements for all courses.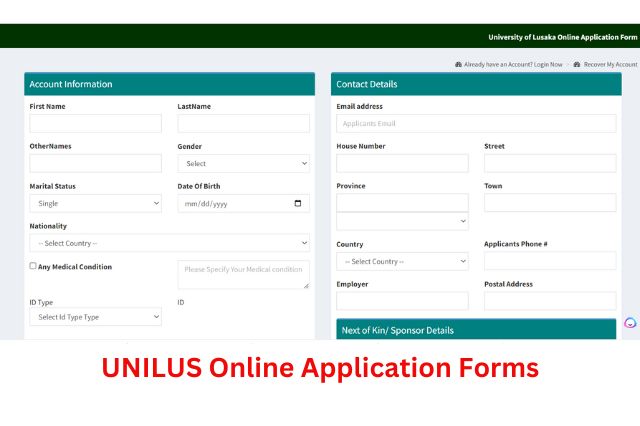 UNIVERSITY OF LUSAKA, UNILUS APPLICATION GUIDE
University of Lusaka, UNILUS offers postgraduate courses at Masters and Diploma levels besides those offered at undergraduate levels. Prospective students should apply through the online admissions portal OR download the form below before the deadline date as it is communicated by the Admissions office. Late applications are only accepted if the program space allows. These should be received not later than two weeks after the start of the appropriate semester. The admission procedure includes the Master's Program applicants.
N.B. Application is made through filling the application form online at the admissions portal OR downloaded and submitted to the admission unit as indicated on the application form.
Once you submit your form, you must pay the application fee for your form to be processed. Otherwise, it will not be processed.
University of Lusaka, UNILUS 2023/2024 Application Forms
Online Application
To access the application forms online, you need to first visit the online admission portal with a valid e-mail address and personal details. If you already have an Access Code, you may continue with the login.
downloadable forms are also available below:
Alternatively, you can also download the application form from this website or come to our Office in Lusaka to obtain the application forms. Copperbelt based applicants can obtain application forms from Intermarket Banking Corporation at Mukuba Pension House in Kitwe. All the application forms attract a minimal fee. Undergraduate (Download form) and ACCA application forms cost K120.00 whereas Postgraduate (Download form) and Ph.D. application forms (Download form) cost K150.00. You can also download  Exemption forms (Download form) for students with prior qualification and program Deferment forms (Download form) for students wishing to defer their studies. The application fees can be deposited into any of the following accounts:
CASH DEPOSITS
CHEQUE DEPOSITS
US DOLLAR
Bank: Barclays Bank Zambia
Branch: Longacres
Acc Name: University of Lusaka
Acc Number: 017-1108039
Swift Code: BARCZMLX
Bank: Access Bank Zambia
Branch: Cairo Road
Acc Name: University of Lusaka
Acc Number: 0010221013161
Swift Code: AZAMZMLU
Bank: Barclays Bank Zambia  Plc
Acc Name: University of Lusaka
Acc Number: 1071643
Branch Code: 001
Branch: Head Office
Swift Code: BARC-ZM-LX
Sort Code: 02-00-01
UNIVERSITY OF LUSAKA, UNILUS APPLICATION PROCESS
You will be sent an acknowledgement as soon as UNILUS has received your application. Your form will then be passed on to the relevant undergraduate /postgraduate admissions authority in the School or Faculty within UNILUS. Decisions regarding admissions are not made until a full application is received. It is important that you enclose all of the information requested to prevent any delays in the application process.
Don't miss out on current updates, kindly like us on Facebook & follow us on Follow @EAfinder OR leave a comment below for further inquiries.