We are pleased to announce that the application for the Step-by-Step Guide for the Amathuba UCT Login portal.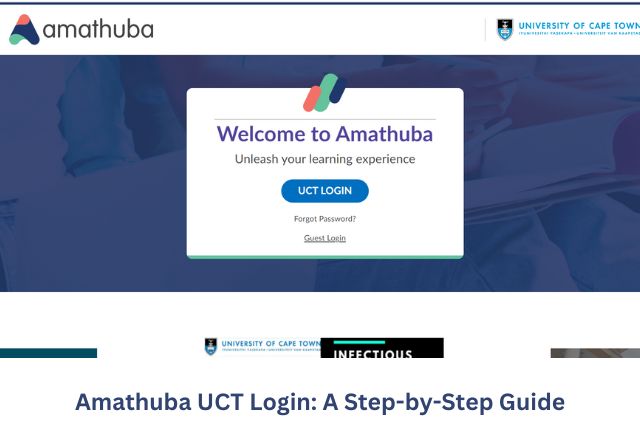 UCT, one of Africa's leading academic institutions, continually strives to provide the highest quality of education possible. In a constant pursuit of academic excellence, UCT has initiated a transition to a new digital learning platform named Amathuba. This platform is powered by Brightspace, a renowned learning management system that's highly valued for its rich features and interactive interface. The Amathuba UCT login portal is a gateway to UCT's innovative digital learning environment that seeks to revolutionize the educational experience for all UCT students and staff.
Amathuba UCT Login: A Step-by-Step Guide
Navigating the Amathuba UCT login process is straightforward, ensuring users can quickly access the platform and the wealth of resources it offers.
Open your web browser and visit the UCT Amathuba login page at amathuba.uct.ac.za/login.
You will see two fields requiring your username and password. Use your UCT student number as your username. Your password will be the same as the one you use for your UCT network login.
Once you have entered your details, click on the 'Login' button. If your credentials are correct, you will be redirected to your dashboard on Amathuba.
In case you encounter issues or have forgotten your password, click on the 'Forgot Your Password' link on the login page. This will guide you through the process of resetting your password.
Please note that this login process is also applicable to staff and tutors accessing the Amathuba UCT login portal.
Who Can Access Amathuba?
Amathuba is accessible to all students, staff, and tutors associated with UCT. This encompasses:
Undergraduate and Postgraduate Students: All registered students at UCT can access their courses on Amathuba. The platform offers a vast range of resources, from lecture notes and videos to quizzes and assignments, which students can utilize for their learning.
Staff and Tutors: All UCT staff and tutors have access to Amathuba. They can post course material, assignments, create quizzes, grade student work, and interact with students via the platform. Resources are available to help staff and tutors make the most of the platform's functionalities.
Migrating from Vula to Amathuba
The migration process from Vula, the previous Learning Management System, to Amathuba has been carefully planned and organized. This systematic migration aims to offer an enhanced learning experience while ensuring continuity in academic operations. The Amathuba login UCT procedures are designed to be user-friendly and intuitive, making the transition as seamless as possible.
In May 2022, UCT announced the search for a new name for its Brightspace-based digital learning platform, thus marking the beginning of a new era in digital education. The name chosen for this innovative platform was Amathuba, which reflects UCT's commitment to providing opportunities for students and staff alike.
The Migration Process
The migration process comprises several phases, ensuring smooth transition from Vula to Amathuba. In the second half of 2022, all first-year courses were shifted to the new platform. During this transition, UCT's Centre for Innovation in Learning and Teaching (CILT) provided continuous communication regarding the process, keeping all relevant parties informed. The Amathuba UCT login password procedures were also carefully explained to users during the transition phase.
Moreover, detailed resources were made available to assist users during the transition. Tools such as the Tool Comparison summary table and the Amathuba Tools Overview were instrumental in helping users identify the similarities and differences between Vula and Amathuba.
User Experience with Amathuba
Amathuba is more than just a platform for hosting course materials and quizzes. It's a fully-fledged digital learning environment that supports robust, interactive, and engaging education at UCT. Users can access lecture videos, engage in discussion forums, submit assignments, and much more, all through the amathuba.uct.ac.za login portal.
The platform is intuitive and easy to navigate, with user-friendly features designed for seamless navigation. From the course selection to file sharing, communication with students, activity setup, grading, and progress monitoring, Amathuba is packed with features to enhance the learning experience.
Mobile Experience with Amathuba
Not to forget, the Amathuba UCT student login process extends to mobile platforms as well. Brightspace Pulse, the companion mobile app for students, ensures that learning is never interrupted, even on the go. With push notifications, students can stay updated about their courses anytime, anywhere.
Dedicated Support for Staff and Tutors
Amathuba extends its functionality beyond the student community. Staff and tutors have access to carefully curated resources to assist them in their roles. The Amathuba Staff Orientation course and the Amathuba Guide for Tutors are some of the resources aimed at helping staff and tutors navigate the platform effectively.
In case of difficulties, the CILT Helpdesk stands ready to assist, ensuring that every query or issue is resolved promptly. Staff can also book a 15-minute consultation with a CILT Consultant for personalized assistance with the Amathuba UCT login portal and other platform features.
Future Developments
Amathuba's journey doesn't end with the successful migration from Vula. Future plans involve the integration of more tools and applications into the platform. Integration with MS Teams is one such significant development in the pipeline. There are also plans to provide short DIY videos or screencasts to aid users in navigating and utilizing the platform efficiently.
Additionally, UCT is committed to providing Wi-Fi access through eduroam to all UCT students, enabling seamless access to the amathuba.uct.ac.za login portal and all the learning resources it hosts.
Frequently Asked Questions (FAQs) about Amathuba
Here are detailed answers to some of the most commonly asked questions about the Amathuba platform.
1. Is Amathuba UCT's name for Brightspace?
Yes, UCT's local name for Brightspace is Amathuba. In May 2022, UCT asked staff and students to submit suggestions for the new digital learning platform's name, and Amathuba was selected.
2. Why is UCT migrating from Vula to Amathuba?
While the detailed reasons for this migration are not specified here, such a transition often occurs when an institution wants to leverage a more advanced or suitable platform to improve the educational experience for students and staff.
3. Where can I ask questions about Amathuba?
You can join the UCT Teaching & Learning Team on MS Teams to find community engagement and ask questions. They respond to questions in the Amathuba channel. For further support, you can contact the CILT Helpdesk at cilt-helpdesk@uct.ac.za.
4. How do I know when my courses are migrating from Vula to Amathuba?
All first-year courses were migrated during the second half of 2022 to be taught in Amathuba from Semester 1 2023. The CILT will communicate the migration process for the remaining courses after discussions with each faculty.
5. Is there a mobile app for Amathuba?
Yes, there's a mobile app for students called Brightspace Pulse, which offers notifications.
6. Can I assign different people different roles in Amathuba as I could in Vula?
Yes, in Amathuba you can assign people to roles such as Lecturer, Support Staff, Tutor, or Student for a particular course. There are also special roles such as the Administrator role, which is automatically enrolled in all courses in the department.
7. Can I view my site as a student as an instructor?
Yes, Amathuba has a setting to see the student view.
8. Can I transfer question pools from Vula to Amathuba?
Yes, that will be part of the conversion process when the course site is migrated.
9. Is there a Gradebook in Amathuba?
Yes, there is a gradebook type tool in Amathuba. It's called Grades and works similarly to the Gradebook in Vula.
10. Can I control when students see material?
Yes, Amathuba allows material to be released both by date (everyone sees it on a specified date) and by release conditions (different students gain access to the material at different times depending on conditions set by the lecturer).
11. What tools integrate with Amathuba?
The current tools that integrate with Vula are being migrated to Amathuba, along with new tool integrations such as MS Teams.
12. Is there any current (or planned) integration with lecture venue camera recordings/live-streams in Amathuba, as with the current Opencast Video tool in Vula?
Yes, Opencast will work in Amathuba similarly to how it works in Vula.
13. Will Amathuba be zero-rated?
No, Amathuba will not be zero-rated as it is cloud-hosted. Zero-rating was an agreement with the network providers during the national state of disaster and can be changed at any point. All UCT students should have access to campus, which has Wi-Fi access through eduroam.
14. What is going to happen to my project site on Vula that I use for research collaboration?
Nothing for now. The first focus is on migrating teaching course sites. You can continue using Vula for all other purposes until there is further communication. The best solution for non-course sites (i.e., project sites) is being investigated.
Conclusion
With its user-centric design, wealth of resources, and robust capabilities, Amathuba is all set to redefine digital learning at UCT. As we navigate through this new era, the Amathuba UCT login portal will stand as a gateway to limitless educational possibilities and opportunities. Welcome aboard this exciting journey of learning with Amathuba.