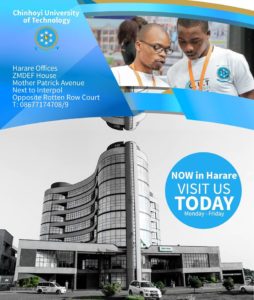 This article contains information on the Chinhoyi University of Technology, CUT Zimbabwe Application form and requirements for admission into Undergraduate Degree, Diploma Programmes and Postgraduate degree programs for the 2020/2021 academic year.
Applications are invited from suitably qualified SCHOOL LEAVERS, NON-SCHOOL LEAVERS and SPECIAL CASES.
CHINHOYI UNIVERSITY, CUT ADMISSION APPLICATION GUIDELINES
Applications for admission are now open. Each student is requested to complete one application form.
Chinhoyi University, CUT Application Procedure
Application Forms are obtainable upon payment of a non-refundable Application Fee of fifteen ($15) dollars for Zimbabwean citizens and fifty ($50) dollars for foreigners.
Application Forms can also be downloaded from the University's Website.
Online applications can be done through the University"s website: Please visit our website for instructions on how to apply online.
Applicants must attach certified photocopies of O" Level and A" Level certificates, birth certificate and National Identity Card and proof of payment of application fees upon submission.
Application Fees can be paid through the following University Bank Accounts: ZB Bank Chinhoyi Branch, Account Number: 4565 386395 200; CBZ, Chinhoyi Branch, Account Number: 09821 46021 0054; Agribank, Chinhoyi Branch, Account Number: 0051 2442 5112 and FBC Bank, Chinhoyi Branch, Account Number 8511 30400 42840135. 
Application Fees can also be paid through Ecocash (The University's biller code is 28090).
Remember Application is also made through filling the application form online at the admissions portal.
Chinhoyi University, CUT Online Application Forms
Chinhoyi University, CUT Application Deadline – 2020/2021
For the August 2020 undergraduate block release intake, the closing date for the receipt of applications is yet to be announced.
Don't miss out on current updates, kindly like us on Facebook & follow us on Follow @Eafinder OR leave a comment below for further inquiries.