We are pleased to announce that the application for the 2024 Erasmus+ Funded Scholarship in Poland is now open.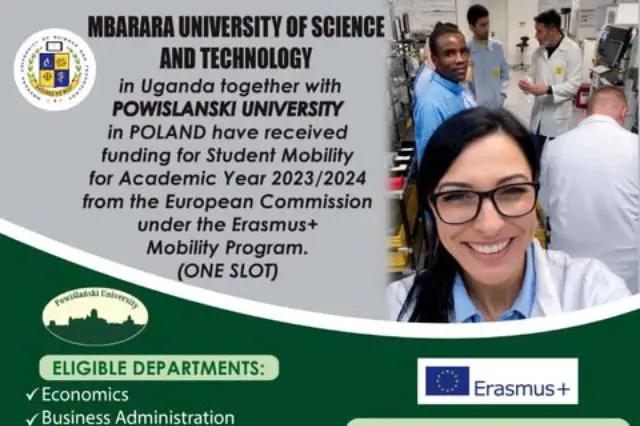 Exciting news for students seeking international exposure and academic growth! A unique opportunity has unfolded for the academic year 2023-2024 as PPOWISLANSKI University in Poland and a distinguished university in Uganda have collaboratively secured funding for student mobility. This initiative is generously supported by the European Commission under the auspicious Erasmus+ Mobility Programme. This programme opens avenues for students to not only receive a distinctive education but also to explore and experience the vibrant and rich culture of Poland.
ERASMUS + FUNDED SCHOLARSHIP ELIGIBILITY
Who can apply?
Eligible Departments: This opportunity is open to students from specific departments:

Economics
Business Administration
Management/Procurement
Finance
Nursing/Midwifery

Academic Requirements: Applicants need to have:

A minimum CGPA of 3.0
Obtained credible academic credits

Language Proficiency: A competent level of English proficiency is mandatory, accompanied by commendable communication skills for non-native speakers.
ERASMUS + FUNDED SCHOLARSHIP APPLICATION PROCEDURE
Applicants interested in this unique opportunity should adhere to the following steps:
Preparation of Application Documents: Prepare your motivation letter expressing your interest and reasons for applying. This letter should be persuasive and well-structured, providing insight into your academic and personal strengths.
Academic Records: Attach a copy of your valid university ID along with a partial transcript. Ensure these documents are legible and up-to-date, reflecting your most recent academic achievements.
Submission: Send the motivation letter, university ID, and partial transcript as a single compiled file via email to the programme coordinator at gbwireh@must.ac.ug.
APPLICATION DATE
Deadline:
The closing date for the submission of applications is fast approaching. All application materials should be submitted by October 15th, 2023. Late submissions will not be considered, so interested students are encouraged to apply early.