This article contains information on the University of Ghana Medical School, UGMS Graduate Entry Medical Programme (GEMP) Admission Form – 2022/2023 Intake and how to Apply. It also contains the University of Ghana Medical School Application form download link, its online application where necessary as well as the UGMS Graduate Entry Admission requirements.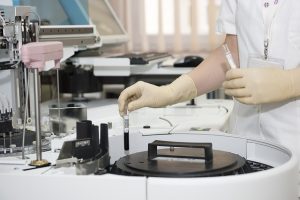 The University of Ghana Medical School (UGMS) is inviting applications from qualified applicants for admission into the Graduate Entry Medical Programme (GEMP) for the 2022/2023 Academic Year.
The Graduate Entry Medical Programme is an integrated 4-year Medical Programme which leads to the award of MB ChB Degree.  The Programme will begin in April 2020 and will be run on a FULL-TIME and NON-RESIDENTIAL BASIS for the Phase I and residential for Phase II.
The University of Ghana Medical School also UGMS is the medical school of Ghana's first public research institution, the University of Ghana. It is currently located at the Korle Bu Teaching Hospital in Accra. The medical school was first planned in 1919 but took its first students in 1962.
Applications are invited from suitably qualified SCHOOL LEAVERS, NON-SCHOOL LEAVERS, and SPECIAL CASES.
UNIVERSITY OF GHANA MEDICAL SCHOOL GEMP ADMISSION REQUIREMENTS
Applicants should have a good (BSc) First Degree (Minimum of 2nd Class Lower) in the following science-based courses: Biological Sciences, Biochemistry, Chemistry, Physician Assistantship, Phar-macy, Nursing, Nutrition, Dietetics, Food Science, Biomedical Engineering, Laboratory Sciences, Physiotherapy and Radiography. Graduates whose courses are not listed should not apply. 
Candidates should have obtained a good WASSCE/SSSCE grade in three (3) core and three (3) Elective sciences subjects one of which must be Chemistry.
There should be evidence of having completed National Service (if applicable).
UNIVERSITY OF GHANA MEDICAL SCHOOL GEMP ADMISSION APPLICATION GUIDELINES
Eligible candidates are to confirm their eligibility from the website and obtain a form at the Academic Affairs Office, UGMS, Korle-Bu (Room 23) Fill and attach the following documents:
Two recent endorsed passport-sized photograph,
Two endorsed Recommendation Letters from 2 Referees from a relevant Academic Institution,
Copy of Certificates (SHS & Degree),
Original Transcript,
a copy of 6 months bank statement and other financial instruments as proof of ability to pay Include addresses and
Letters from Sponsor(s) undertaking to pay all fees showing detailed information of present work status,
a Proof of online registration and NSS Certificates where applicable.
All online applications and submission of forms should be completed by Friday, December 31, 2021.
COST OF APPLICATION
GHANAIAN APPLICANTS
University of Ghana online application E-VOUCHERS can be obtained by Ghanaian applicants for Two Hundred Ghana Cedis GH¢200.00 at the following banks: Ecobank, HFC Bank, Agricultural Development Bank, Ghana Commercial Bank, Zenith Bank, Merchant Bank, UniBank, Prudential Bank and Fidelity Bank.
FOREIGN APPLICANTS
Foreign Applicants are to pay One Hundred and Ten US Dollars ($110.00) as application fee into FGN-USD (0161034485604301) College of Health Sciences, Korle Bu Campus. SWIFT CODE: ECOCGHAC.  Kindly indicate UGMS-GEMP on the payslip and upload as part of the application form.
ADDITIONAL INFORMATION FOR GEMP 2022/2023 ACADEMIC YEAR
Shortlisted eligible candidates should take note of the following proposed dates regarding the Graduate Entry Medical Programme admissions:
Shortlist of Eligible Candidates –          Friday, 14th January 2022
Access Course                             –          Monday, 24th January – Friday, 4th February 2022
Entrance Examination               –          Tuesday, 15th February 2022
Interview                                      –          Thursday, 17th February – Friday, 18th February 2022
Registration/Med. Exams          –          Monday, 4th April – Friday, 8th April 2022
Orientation/Workshop on Teaching & Learning Methodologies  –          Monday, 25th April – Friday, 29th April 2022
Lectures Begin                            –          Monday, 2nd May 2022
ENTRANCE EXAMINATION
The Entrance Examination takes place on Tuesday, 15th February, 2022. There will be only one centre – Accra Centre.
VENUE:  ACCRA – GHANA
The Entrance Examination will take place at the University of Ghana Medical School, New Examination Hall, Korle-Bu, Accra – Ghana as follows:
Paper 1 – General Paper is from 8:00 a.m. – 10:30 a.m.
Paper 2 – Scientific Foundations of Medicine is from 11:30 a.m. – 2:30 p.m.
It is expected that all applicants will arrange to be in Accra, Ghana within the periods stated above.
Click here to check the University of Ghana Medical School minimum Admission requirements for other courses.
Don't miss out on current updates, kindly like us on Facebook & follow us on Follow @Eafinder OR leave a comment below for further inquiries.