This article contains information on the various ways you can afford U.S College as an International student.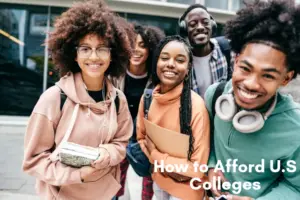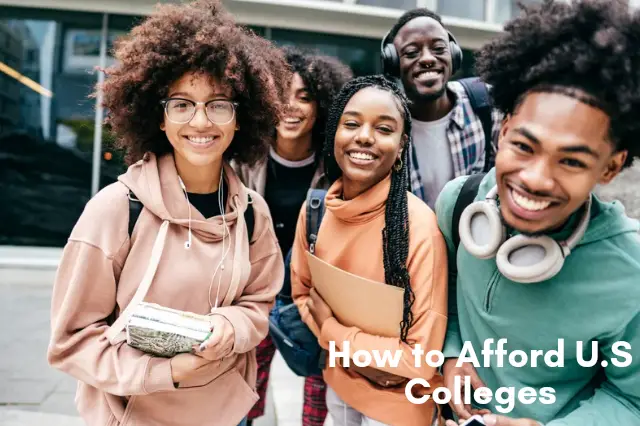 It is the dream of most students, if not all, to be able to go to school in a developed country like the United States considering the numerous opportunities available in the country as opposed to life in third world countries. There are different benefits of studying in the U.S, which includes;
1. access to world's top Universities as well as learning resources and tools that makes learning attractive and less hectic.
2. opportunities to build a strong network and make friends with people from around the world.
3. opens the door to future international opportunities and lots of other benefits.
These and more are reasons why international students will not cease to flood U.S colleges.
According to The Washington post [8], the number of international students increased by 4% in the 2021-2022 academic year to nearly 1 million students from over 200 countries after a drastic drop the previous year due to the COVID19 pandemic. 
Considering the beautiful opportunities that come with studying in the U.S as an International student, no student would like to be left out, but unfortunately, studying in a country like the U.S is quite expensive and not everyone can afford it.
The essential cost of education in the USA is the tuition fee. Comparatively speaking, public and state universities charge less tuition than private colleges. However, tuition costs vary depending on the degree program and institution that a person chooses. In all, according to Greatlearning [2], International students pay between $25,000 and $55,000 annually in tuition to attend a university in the U.S.
Regardless of the cost of U.S colleges, there are various means a student can afford a U.S University without worries. If it is your dream to study in the U.S as an International student, here are ways to achieve that:
GO FOR SCHOLARSHIPS
Scholarships are great ways to afford U.S colleges without worries. Although many academic awards are solely open to U.S nationals, there are some that do accept applications from other Nationals.
More than 1100 scholarships [7] are available for International students at top universities for the 2023-2024 academic year. So, if you want to study in the U.S, here are scholarships to apply for; 
1. Fulbright Scholarships USA
Fulbright Scholarships are fully funded scholarships for international students, graduates, young professionals, etc, to study. It is one of the most popular grants for International students in the U.S. These are only offered for masters and PhD studies. Fulbright Foreign Student Scholarship covers full tuition fee, a living stipend, full accommodation fee, airfare and health insurance.
This government-funded scholarship covers full tuition, a living allowance, travel and health insurance for the duration of the program.
2. ACI Foundation Scholarship 
This is a fully funded scholarship or fellowship for international students. This scholarship offers over $200,000 annually [1] to both undergraduate, masters, PhD and Postdoctoral students. This covers educational stipend for tuition, residence, books, and materials. If interested in this scholarship program, here are the requirements [1.1].
3. AAUW International Fellowship Program
AAUW Fellowship Program [3] is a fully funded scholarship offered by The American Association of University Women, USA. International students from across the globe are eligible to apply. However, it is only available for graduate and post graduate studies in any subject offered by university.
The AAUW Fellowship Program covers between $18,000 to $30,000 annually, which is subject to renewal upon meeting academic standards for renewal. 
4. Fairleigh Dickinson University Scholarships
Although FDU Scholarships [5] are not fully funded undergraduate scholarships, it offers a range of scholarships based on merit and test scores. These scholarships are awarded under certain conditions [5.1].
You can check here [7.1] for more scholarship options.
APPLY FOR FINANCIAL AID
Financial aid opportunities vary based on school and degree level. Basically, graduate students qualify for funding opportunities more than undergraduate students. This is because most of the financial aid for international students comes from research and teaching assistance programs. These programs provide paid research and teaching responsibilities to graduate students.
Also, financial aid can be funded by grants and scholarships as well. 
In some countries like UAE [6], Japan and a host of other countries, their government has financial aid programs for their citizens studying abroad. On the other hand, non-profit organizations within your country may offer their own scholarships. 
So, depending on where you are from, you may be eligible for financial aid but be ready to give documentation about your family's financial histories.
To find out if your home country has such programs, you can contact your ministry of education.
TAKE STUDENT LOAN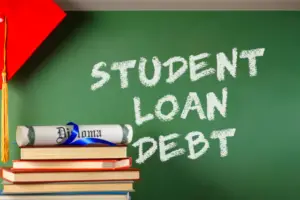 Another way in which students can afford the cost of U.S colleges is by taking student's loan. This form of financial support is mostly provided by banks and private organizations with varying terms and interest rates.
Normally, International students are not eligible for U.S. federal student loans but can receive federal student aid.
However, there are student loans provided by private lenders that can cover the cost of education in the U.S.
Lenders such as Prodigy Finance [4.1] provide loans to international borrowers, even without a cosigner in some situations. Other lenders including Ascent [4], etc, offer student loans to international students when they have a U.S. cosigner for their loans, with a 10-year repayment terms which is the most common.
FIND A PART-TIME JOB
It is not compulsory to fund your education via financial aids and loans since one of the interesting things about the U.S is the opportunity to work while schooling. This is not easy to juggle in some other countries of the world.
Another way to fund your education is by getting a part-time job. So, when you run out of options to fund your studies, you can always take up a job. 
According to study portals [9], most international students with a student residence permit are eligible to work, at least part-time. 
Most foreign student visas allow applicants to request authorization to work 20 hours per week off-campus beginning in the second year. 
So, while working you can save alongside.
PARENTS SPONSORSHIP
Ideally, it is the responsibility of parents and guidance to see their children through school. Hence, this becomes the major way through which students afford U.S colleges.
Thus, if your family can afford it, you can have them finance your studies.
Conclusion
Studying in the U.S is quite expensive and can be a real challenge, especially if you do not have adequate funds. However, this article has shown you various ways to afford U.S colleges as an International student, which include applying for scholarships, Financial aid, applying for student loans, taking up part time jobs, etc.
With information contained here, you can plan ahead of time before you make any move to enroll in a U.S college.
References:
[1] "ACI Foundation > Scholarships." Acifoundation.org, https://www.acifoundation.org/scholarships.aspx. Accessed 6 Apr. 2023.
[2] "Great Learning: Online Courses, PG Certificates and Degree Programs." Great Learning, https://www.mygreatlearning.com/. Accessed 6 Apr. 2023.
[3] "International Fellowships." AAUW : Empowering Women Since 1881, 12 Feb. 2020, https://www.aauw.org/resources/programs/fellowships-grants/current-opportunities/international/.
[4] Juno. "Ascent Review: Private Student Loans." Joinjuno.com, https://joinjuno.com/financial-literacy/student-loans/ascent-review-private-student-loans. Accessed 6 Apr. 2023.
[5] "Scholarships for International Students." Fairleigh Dickinson University, 21 Aug. 2019, https://www.fdu.edu/admissions/international/scholarships/.
[6] "Scholarships for UAE Nationals – the Official Portal of the UAE Government." U.Ae, https://u.ae/en/information-and-services/education/higher-education/joining-higher-education-institutions-/scholarships-for-uae-nationals. Accessed 6 Apr. 2023.
[7] "USA Scholarships 2023-2024 (for International Students)." Scholarshiproar.com, Scholarship Roar, 4 Dec. 2022, https://scholarshiproar.com/usa-scholarships/?amp.
[8] Washingtonpost.com, https://www.washingtonpost.com/education/2022/11/14/international-college-student-enrollment-rise/. Accessed 6 Apr. 2023.
[9] Bachelorsportal.com, https://www.bachelorsportal.com/articles/2431/6-ways-to-finance-your-international-bachelors-degree-in-2023.html. Accessed 6 Apr. 2023.
Don't miss out on current updates, kindly like us on Facebook & follow us on Follow @EAfinder OR leave a comment below for further inquiries.