The Accredited list of courses offered at the Midlands University, MSU and their Requirements for 2024/2025 has been released and published here.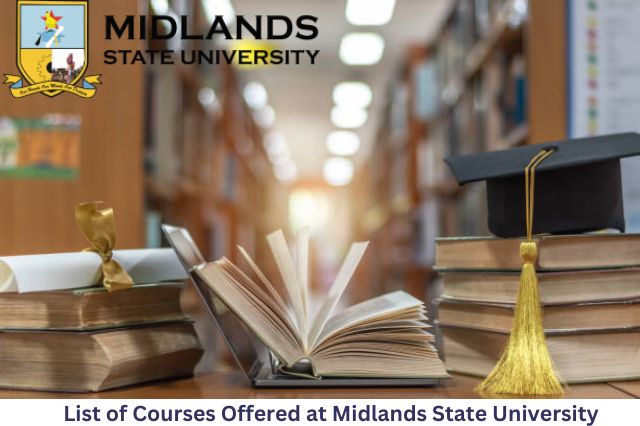 All interested aspirants or candidates who want to apply for admission to the school can now proceed and check below for the list of courses offered at Midlands University, MSU, and their Requirements.
The general public and all those interested in studying at Midlands State University (MSU are hereby informed that the list of courses offered at MSU has been listed in the article and can be found below.
If you are looking for Midlands State University (MSU),  then you are finally in the right place, especially if you have been searching so hard for it. Today, one of our articles, which you are currently reading, contains the official list of all the courses offered at Midlands University, also known as MSU.
LIST OF UNDERGRADUATE COURSES OFFERED AT MIDLANDS STATE UNIVERSITY, MSU
The courses are listed in alphabetical order below:
Accounting (BComm)
Adult Education (BAdEd)
African Languages And Culture (BA)
Agricultural Economics and Development (BSc)
Agronomy
Agronomy (BSc)
Animal and Wildlife Sciences (BSc)
Applied Biological Sciences And Bio-Technology (BSc)
Applied Mathematics (BSc)
Applied Physics and Instrumentation (BSc)
Archeology, Cultural Heritage and Museum Studies
Bachelor of Educational Technology
Banking and Finance (BComm)
Biological Sciences (BSc)
Business Management (BComm)
Certificate in Social Work
Chemical Technology (BSc)
Computer Science (BSc)
Development Studies (BA)
Diploma in Adult Education
Early Childhood Education (BEd)
Economics (BComm)
Educational Management and Leadership (BEd)
Entrepreneurship (BComm)
Film And Theatre Arts Studies (BA)
Food Science and Technology (BSc)
French (BA)
Geography and Environmental Studies (BSc)
Geology
History And International Studies (BA)
History Studies (BA)
Horticulture (BSc)
Horticulture and Crop Production (BSc)
Human Resource Management (BSc)
Information Systems (BComm)
Insurance and Risk Management (BComm)
Land And Water Resources Management (BSc)
Laws (LLB)
Local Governance (BSc)
Marketing Management (BComm)
Master of Adult Education Degree
Materials Engineering (B.Eng)
Media and Society Studies (BSc)
Medicine
Metallurgical Engineering (B.Eng)
Mining Engineering Honors Degree (B.Eng)
Music Business, Musicology and Technology (BSc)
Peace Studies (BSc)
Politics and Public Management (BSc)
Psychology (BSc)
Religious Studies (BA)
Retail and Logistics Management
Social Work (BSc)
Surgery (MBChB)
Surveying And Geomatics (BSc)
Telecommunications Engineering (BSc)
Tourism and Hospitality Management (BComm)
For further inquiries, please leave a comment below.