We are pleased to show you the step-by-step guide for the Midlands State University (MSU) Online Admission Application for 2024/2025.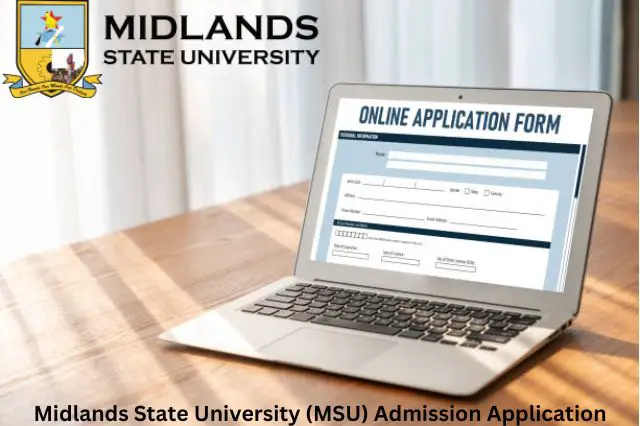 Midlands State University (MSU), spread across Zimbabwe with its prominent campuses in Harare, Zvishavane, and its mainstay in Gweru, stands tall as a distinguished academic institution. With nine distinct faculties, a dedicated faculty, and a robust student population, MSU nurtures a thriving academic and entrepreneurial spirit. Beyond conventional learning, the university ensures its graduates are multifaceted and ready to not only step into jobs but also launch their ventures. MSU is not just a university; it's a hub of holistic development, inviting aspiring students to be a part of this academic journey.
---
MSU Online Admission Application Eligibility
Educational Qualifications:
Applicants must have successfully passed the Cambridge School examination or its equivalent.
For the Faculties of Science and Technology, Commerce, Natural Resources Management, and Agriculture, and the Department of Geography: 5 'O' Level subjects or equivalent, including English Language and Mathematics at grade C or better.
For the Department of Psychology: Passes in Biology and Mathematics at 'O' level
For All Other Programs: Minimum 'O' level Mathematics with a grade of 'E' or better.
Get more information on the MSU Admission requirements here
Language Requirement:
English is the primary language of instruction at MSU.
Candidates from non-English-speaking backgrounds are obligated to register for an Intensive English program spanning one semester before beginning their primary degree.
---
MSU Online Application Procedure
Manual Application:
Obtain the Official Application Form:

This can be obtained directly from the Admissions Office at Midlands State University.
Alternatively, forms can be downloaded online:

Application Fee Payment:

Local students: USD$20 or its RTGS equivalent at the current bank rate.
International students: USD 50.
Deposit the fee in the University's CBZ account: 01820772520046. Use Branch Sort Code 6508 and Swift Code COBZZWHA.
Note: Only original deposit slips or receipts from the bursar's department (MSU) are accepted as proof of payment. Cheques, Telegraphic Transfers, and money orders are not acceptable.
Get more information on the MSU Fee Structure here

Document Submission:

Submit the filled-out application form.
Attach certified copies of birth certificates, national identity documents, and educational certificates.
Direct the forms to: The Senior Assistant Registrar, Admissions and Academic Affairs, Midlands State University, P.B. 9055, GWERU.
Online Application:
Initiation:
Form Filling:

Input relevant details:

Title, Surname, First name, Gender, Date of Birth, Nationality, ID Number, and email
Answer: "How did you know about MSU?"

Submission:

After filling out all required information, click on the 'Next' button to proceed.

Application Status:

You can regularly check the status of your application on the Online Admissions Status Portal.
Use your registered Email or registration Number and the provided password to log in.
For International Students:
Download forms from the admissions section on the official website.
Pay the non-refundable application fee of USD 50 directly to the university or through telegraphic transfer into the institution's account.
Attach clear, certified copies of high school certificates and any other professional qualifications. If not in English, provide an official English translation of each document.
Send all documents to internationalrelations@staff.msu.ac.zw.
---
Application Fee
Local Students: USD$20 or its RTGS equivalent at the current bank rate.
International Students: USD 50
Note: All application fees are non-refundable.
---
Application Date
While specific dates for the 2024–2025 admission application have not been provided in the shared information, it's recommended to keep an eye on the university's official website or contact the admissions office for accurate dates.