This article contains information on the Examination Council of Zambia (ECZ) e Statement of Results for GCE, Grade 7 & 9 Results that is out online for download in PDF format for the 2022/2023 academic year. It also involves steps on how to check using the e-Statement of Results portal. In order to embrace a smart Zambia, Clean and Green Country, STATEMENTS OF RESULTS will now be accessed by Candidates online anywhere. The results for both GCE and Grade 9 internal and external for 2022/2023 are now available Online.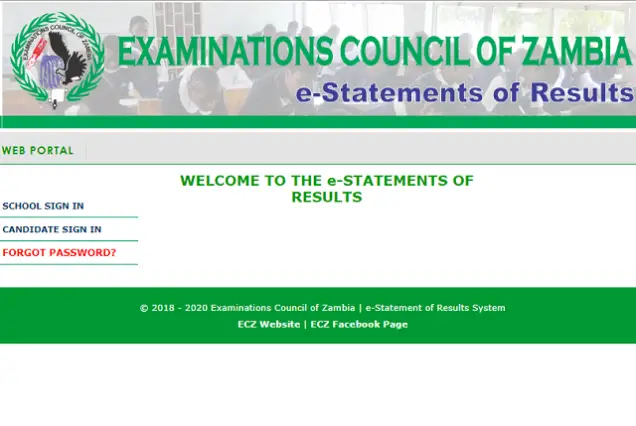 The Examinations Council of Zambia (ECZ) was established under the Examinations Council of Zambia Act of 1983, to set and conduct examinations and award certificates to successful candidates. It is therefore pleased to announce the e-Statement of Results that would make it accessible online to every candidate anywhere in the world.
HOW TO CHECK AND PRINT YOUR E-STATEMENT OF RESULTS ONLINE 
Applicants should note the following.
Go to the E-STATEMENT OF RESULTS Portal (accessible from the ECZ Website: https://eservices.exams-council.org.zm)
 Click on E-STATEMENT OF RESULTS, then;
Click on CANDIDATE SIGN IN
Select the level you wish to check results for in the dropdown box then click on Continue button
Enter Candidate's Examination Number in the provided textbox and then click on Continue
The results will be displayed showing all the details of the candidate and school
Click on PRINT STATEMENT OF RESULTS
A PDF document will be generated in a new tab within the browser.
If you get a message saying, The statement of results has been successfully generated BUT the statement is not shown in the browser, you need to enable pop-ups in your web browser. In that case, you will be required to redo the process from step 4.
NOTE: A device with a web browser and active connection to the internet will be required to perform this task.
Don't miss out on current updates, kindly like us on Facebook & follow us on Follow @EAfinder OR leave a comment below for further inquiries.