This article contains information on planner apps that can help college students organize and plan efficiently.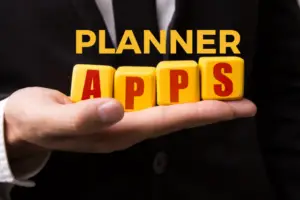 Aside from life, time is another thing that can never be recovered when it's lost. Time is precious and without proper and effective use of it, it may seem like the 24 hours is not just enough.
Perhaps you are one of those who feels 24 hours isn't enough, the problem isn't the length of time but how well you are able to plan your day. College can be exciting and overwhelming when it comes to time. There is a lot to keep track of, from classes and assignments to extracurricular activities and social events. With all of these, you will discover that it might be a bit difficult having to juggle school work with other activities.
But like the saying goes, "failure to plan is planning to fail." As a college student, it is therefore important to learn how to plan your time well by knowing exactly what needs to be done at every given time.
I understand doing this may be difficult and at some point you may lose track of time. But there is nothing to worry about. Technology keeps evolving on a daily basis to make life easier. Fortunately, there are many planner apps available that can help you stay organized and on top of your schedule. So, if you are one of such students who are finding it hard to plan and manage your time effectively, a Planner app [7] will help take the burden off your shoulders.
Planner apps can be a helpful tool for college students to manage their schedules, deadlines, assignments, and other tasks. With a planner app, you can organize your academic and personal lives in one place, making it easier to stay on track and meet your goals.
Important Features of a Planner App
Here are some key features to look for in planner apps for college students:
Task and Assignment Management
A good planner app should allow students to create tasks and assignments with due dates, reminders, and priority levels. It should also provide an easy way to track progress and completion.
Calendar Integration
A planner app that integrates with the student's calendar can help them to better manage their time. By being able to see their classes, extracurricular activities, and other commitments all in one place, students can better plan their study time.
Note-Taking and File Management 
Many planner apps have built-in note-taking and file management features, which can be helpful for organizing class notes, handouts, and other materials. This can make it easier to study and prepare for exams.
Goal-Setting and Progress Tracking
A planner app that allows students to set goals and track their progress can help them to stay motivated and focused. By being able to see their progress over time, students can also identify areas where they may need to improve.
Collaboration and Sharing
For group projects or study groups, a planner app that allows for collaboration and sharing can be a valuable tool. Students can share assignments, notes, and other materials, and communicate with their peers all in one place.
With this understanding, below are some best planner apps for college students:
1. My Study Life
This app [9] has a built-in task manager and the ability to sync across devices.
It allows students to manage their schedules, assignments, and exams via a weekly schedule template where you can. You can also add extra details about the tasks such as time, teacher's name, lesson topic, etc.
Some of the unique features of this app include notification alerts on assignments and future classes, timetables and routines, tracking of assignments as well as cloud storage and easy access.
As a student who forgets tasks easily, the app helps to remind you about upcoming tasks via notifications on all your devices.
2. Evernote
Although Evernote [2] is not known by all to be a planner app but instead a note taking app, the free planner app lets you share project files with others, which is useful when you're working on a group assignment. Evernote note-taking and file management features can also be helpful for organizing class materials. It also integrates with many other apps and services.
3. Trello
Trello [5] is a task management app that allows you to create boards and cards for different projects or tasks. It can be helpful for organizing group projects or individual assignments.
Trello offers different project boards and cards that's better situated for sharing with teams. However, it can function as a personal to-do list especially if you like the kanban style or you include friends and colleagues to work with you.
Asides that, the app allows users to create and prioritize tasks and set reminders. It also includes a built-in calendar and the ability to collaborate with others.
Trello is a great way to stay on top of your tasks and be productive by organizing your daily tasks into subtasks and more. With its easy-to-use interface, daily planning is made clear with the app. 
4. Todoist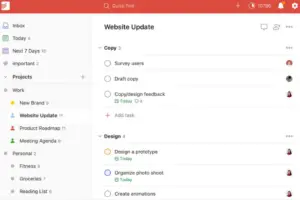 Todoist [6] has a simple interface, and the Kanban boards showcase this simplicity with separate color-coded tags and filters. This app allows you to focus on the right things at the right time with tasks, projects, due dates, and reminders.You can also connect with your other tools like calendar, email, and other tools.
As a student, todoist helps you upload assignments and monitor it to know when it is completed. It's a helpful and useful app for every student. This remains one of the best planner apps for students .
5. Any.do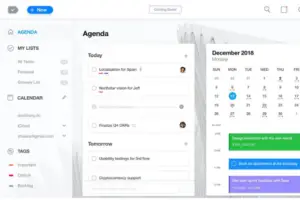 Any.do [1] is a productivity app that helps users manage and organize their tasks, to-do lists, and reminders in one place. It is available on iOS, Android, and the web and offers features like task management, time management, collaboration, and integration with other popular apps like Google Calendar.
The is also a versatile and user-friendly app that can be useful for college students in managing their assignments, projects, and schedules. If you tend to forget your tasks, then Any.do is the best planner app for comprehensive reminders.
Whether you need reminders for one-time tasks or recurring tasks every week, Any.do can help you prioritize your commitments with ease.
6. Google Calendar
While not specifically a planner app, Google Calendar [8] can be a helpful tool for managing schedules and deadlines. Google Calendar allows users to create and edit events. It integrates with other Google apps, such as Google Docs and Google Meet.
Google Calendar is also perfect to have a daily, weekly, and monthly overview in terms of meetings, work, and more.
It is a good planner app for students because it helps them manage their classes, assignments, and extracurricular activities, set up reminders and notifications, share their schedule, and integrate with other productivity tools like Google Drive and Gmail. By using Google Calendar, students can stay organized and manage their time more
7. Clockify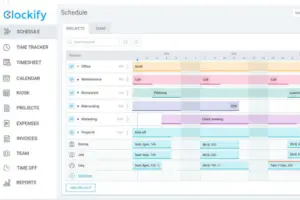 Clockify [3] is a productivity and time management app with a broad range of features that help you plan out your day in a couple of clicks.
It allows students to track how much time they spend on various tasks, projects, and activities. Clockify offers a range of features, including the ability to create projects and tasks, set timers, generate reports, and export data to other tools like Excel or Trello. It also offers integrations with other popular productivity apps like hubspot, Slack, and Trello.
Clockify can be used for personal productivity tracking or for team management purposes. With clockify, a student can see where they spend their time, identify areas for improvement, and increase their productivity by setting goals and tracking progress.
Clockify's simple-to-use interface lets you manage your time and create a perfect daily schedule without the initial time-consuming setting up process.
8. Habitica
Habitica [4] is a free productivity and favorite app that gamifies your daily life and tasks. It is a free habit-building and productivity app that treats your real life like a game. With in-game rewards and punishments to motivate you and a strong social network to inspire you, Habitica can help you achieve your goals to become healthy, hard-working, and happy. It offers in-game rewards and punishments to motivate you to complete your tasks. As a student, you should find this app interesting.
Conclusion
By utilizing planner apps, college students can reduce stress and increase productivity, ultimately helping them to make the most of their college experience.
With the wide variety of planner apps available, students can choose the one that best fits their needs and preferences. Whether it's Google Calendar for simple schedule management, My Study Life for a more specialized student-focused approach, or a combination of different apps, these tools can help students stay organized and achieve success in their academic and personal lives. 
Ultimately, the best planner app for a college student will depend on individual needs and preferences. It's important to find an app that is easy to use, integrates with existing workflow, and provides the features that you need to stay organized and on track.
References:
[1] "A Simple to Do List for You and Your Team." Any.Do, https://www.any.do/. Accessed 23 Apr. 2023.
[2] "Best Note Taking App – Organize Your Notes With." Evernote, https://evernote.com/. Accessed 23 Apr. 2023.
[3] COING Inc. "Clockify – FREE Time Tracking Software." Clockify, https://clockify.me/. Accessed 23 Apr. 2023.
[4] "Habitica – Gamify Your Life." Habitica.com, https://habitica.com/static/home. Accessed 23 Apr. 2023.
[5] "Manage Your Team's Projects from Anywhere." Trello.com, https://trello.com/en. Accessed 23 Apr. 2023.
[6] "Todoist." Todoist, https://todoist.com/. Accessed 23 Apr. 2023.
[7] Wojno, Rebecca. "The Power of a Planner App [and How to Pick One]." Monday.com Blog, 1 Apr. 2021, https://monday.com/blog/productivity/planner-apps/.
[8] Workspace, Google. "Shareable Online Calendar and Scheduling – Google Calendar." Google Workspace, https://www.google.com/calendar. Accessed 23 Apr. 2023.
[9] Mystudylife.com, https://www.mystudylife.com/. Accessed 23 Apr. 2023.
Don't miss out on current updates, kindly like us on Facebook & follow us on Follow @Eafinder OR leave a comment below for further inquiries.