We are pleased to announce the application for the 2023 Technical Service Trainee at Alrode Brewery is now open.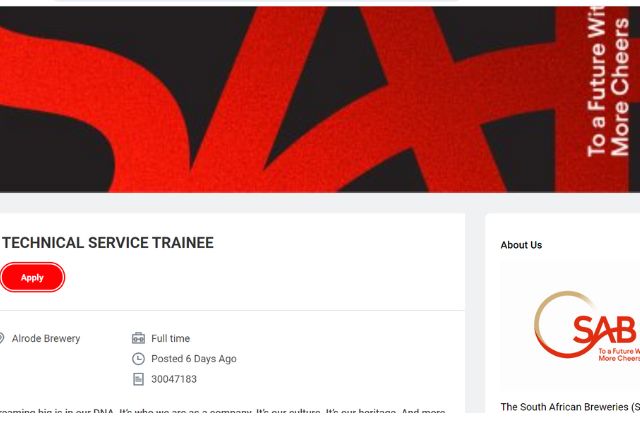 Alrode Brewery is inviting applications for its highly sought-after role of Technical Service Trainee. This is a unique opportunity for candidates with a background in Mechanical/Mechatronics or Electrical Engineering to be part of an 18-month structured programme, designed to equip graduates with practical technical skills and industry-specific experience.
The Technical Service Trainee programme at Alrode Brewery offers an engaging hands-on experience in the utilities sector of the brewery. The successful candidate is expected to gain a full understanding of the theory, principles, and operation of Utilities equipment across the Brewery during this time. This programme is not just about acquiring skills but also an excellent opportunity to familiarize oneself with the company's culture and principles.
Benefits of the Technical Service Trainee Programme
Practical Experience: The trainee program is primarily a hands-on initiative where you will gain real-world experience in dealing with Utilities equipment across the Brewery.
Project Participation: As part of your training, you will be involved in Utilities-related projects, giving you the opportunity to put your theoretical knowledge into practice.
Leadership Opportunities: During your traineeship, you will have the chance to act in identified leadership positions within the Utilities sector, helping to build your leadership skills and confidence.
Communication Skills Development: The programme encourages sharing of learnings and solutions across various levels of the business, which will enhance your communication skills.
Problem-Solving Skills Enhancement: Trainees will get to diagnose systemic and situational problems and engage in troubleshooting, thereby improving their problem-solving abilities.
Eligibility Criteria
Applicants should hold a minimum BSc or B-Tech qualification in Mechanical/Mechatronics or Electrical Engineering.
Two years of experience in Utilities would be advantageous but not mandatory.
Application Procedure
Go through the job description carefully to ensure you meet the eligibility criteria.
Click on the 'Apply' button and fill in the necessary details.
Attach your CV and other relevant documents in the specified format.
Review your application before submission to ensure all entered information is correct.
Click 'Submit' to finalize your application.
Application Date
Please note that the application is open until the position is filled. However, we strongly encourage interested candidates to apply at the earliest as applications will be reviewed on a rolling basis.
This trainee programme is a fantastic opportunity for engineering graduates seeking hands-on experience and knowledge in the Utilities field. With exposure to Alrode Brewery's operations and culture, trainees will be well-equipped for a successful career in the industry.