Although Close Corporations are no longer a recognized business structure in South Africa, this article contains examples of close corporations in South Africa.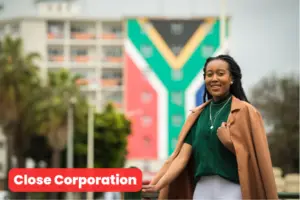 Introduction
According to South African Revenue Source (SARS) [1] CC is similar to a private company with a few differences.
A Closed Corporation [5] is a company which does not raise funds from the public and instead operates with a small number of shareholders to ensure supreme control over its functioning.
Before starting a business, there are legal processes to be followed and close corporations are not left out. Close Corporations were a legal business structure that allowed for a simplified form of company registration and management. However, as of 1 May 2011, the new Companies Act introduced a new business entity called a "Private Company" and close corporations are no longer available for registration, although existing CCs can still run as such indefinitely.
Although CC's had its advantages including;
Ease of establishment, operation and transfer of ownership, fewer legal requirements than a private company, uninterrupted business operations in the absence of members, etc, it still had its disadvantages, such as limited number of 10 members maximum, more legal requirements, etc
However, scrapping of CC is not something to be worried about because the introduction of new Companies Act has also seen to the removal of the annual auditing of companies which was one of the major differences between a CC and Pty Limited [3].
Characteristics of Close Corporation
To better understand what a close corporation was, here are some key characteristics:
1. Limited liability: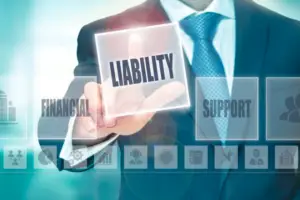 Like companies, close corporations provided limited liability protection to its members. This means that the personal assets of the members were separate from the liabilities of the CC, offering a level of protection.
2. Legal Entity: 
A close corporation had a legal entity separate from its members. It could enter into contracts, own property, and engage in business activities in its own name.
3. Structure: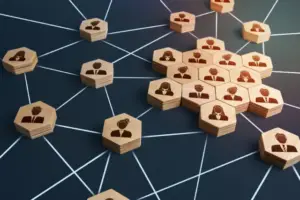 Close corporations were owned and managed by its members, who were referred to as "members" rather than shareholders. The number of members in a close corporation was limited to a maximum of 10.
4. No shareholders or share capital: 
Close corporations did not have shareholders or share capital. Instead, members held an interest in the close corporation, which was represented by members' interests or ownership percentages.
5. Dissolution and conversion: 
In the case of dissolution and conversion, Close corporations could be voluntarily dissolved or converted into companies under specific circumstances, allowing for flexibility in the business structure.
For the purpose of this article, we will be looking at some examples [6] of Close Corporations in South Africa. Here are a few examples of well-known Close Corporations (now private companies) in South Africa:
1. IAPA Johannesburg Chartered Accountants
IAPA Johannesburg [2] is one of 26 auditing firms listed by the JSE as an accredited auditing firm qualifying us to audit JSE listed companies.
IAPA Johannesburg and its partners are registered and affiliated both with the South African Institute of Chartered Accountants (SAICA) and the Independent Regulatory Board for Auditors (IRBA). 
2. Profit-care
Profit-care is a professional Financial and Accounting Services, Auditing ,Tax Consultancy and Tax Planning – South Africa.
3. Andre De Klerk Attorneys
Andre de Klerk is an admitted attorney, conveyancer and notary. His qualifications include a BA LLB degree and a LLM degree, both acquired at the University of Pretoria. He also has a certificate in deceased estate administration acquired from the University of South Africa.
4. AN Accounting Services
AN Accounting Services is a 100% Black Owned Close Corporation that offers Bookkeeping, Accounting and Tax Services at very competitive prices. We strive to deliver on time and offer affordable services to the smaller organizations in South Africa.
5. De Bruyn Daly
Founded in 1993 with just two staff members at the time, De Bruyn Daly, is an Accounting firm that offers Bookkeeping and consulting services to both corporates and individuals
6. Miroda Printers
Another example of close corporation is Miroda Printers, a company that operates in South Africa in the area of Finances & Insurance more specifically with Mortgage Brokers. The company currently has its operations in South Africa, Mpumalanga precisely.
Mphosello Investment Cc
Offspring Events Coordinators
Adi-pro Cc
P I Mitton Transport
Gazza A-z Solutions
The Green Umbrella
Jacaranda Business Service
New Age Television
Lefophs Trading Enterprise
Motila Window Cleaning And Landscaping
V T Oracle Trading Enterprise
Cross Continental Marketing And Brokin
Stattax S Meintjies
Talent Worx
Ndendezana Trading Enterprise
Vital Occupational Health
Conclusion
It is important to note that as of 1 May 2011, close corporations stopped being available for registration due to the introduction of Private companies by the new Companies Act in South Africa.
With the new development, closed corporations were given the option to convert to private companies or continue their operations with certain restrictions.
References
[1] "Close Corporations (CC)." South African Revenue Service, 12 Feb. 2021, https://www.sars.gov.za/businesses-and-employers/small-businesses-taxpayers/starting-a-business-and-tax/close-corporations-cc/.
[2] "IAPA Johannesburg." Iapa.Co.Za, http://www.iapa.co.za.
[3] "Private Company (Pty) Limited) South Africa." Intergate Immigration Service (Pty) Ltd, 14 Mar. 2015, https://www.intergate-immigration.com/private-company-limited-south-africa.php.
[4] "The Best 10 Close Corporation 2023 – Africa." Africanadvice.com, https://www.africanadvice.com/Close_Corporation/.
[5] Wallstreetmojo.com, https://www.wallstreetmojo.com/closed-corporation/.
[6] Yellosa.Co.Za, https://www.yellosa.co.za/companies/close-corporations.
Don't miss out on current updates, kindly like us on Facebook & follow us on Follow @EAfinder OR leave a comment below for further inquiries