Pacific Africa Center for Transforming Leadership (PAC) University is inviting individuals who are interested in becoming professional mediators to enroll in their online mediation training program.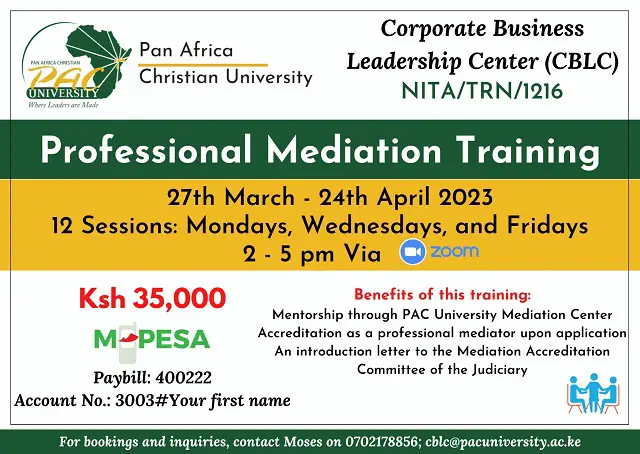 The program is designed to equip participants with the necessary skills to effectively mediate conflicts, manage negotiations, and facilitate communication. Participants will have the opportunity to learn from experienced mediators and participate in simulated mediation scenarios to put their knowledge into practice.
PAC University is a leading institution in Africa that offers quality education and transformative leadership training. The institution is committed to providing students with the necessary skills and knowledge to become effective leaders who can make a positive impact in their communities.
To register for the program, kindly follow the instructions stated below:
Registration process for the online mediation training program:
Contact Moses at 0702178856 for bookings and inquiries.
Pay Ksh. 35,000 through M-Pesa paybill 400222 account number 3003#Your first name.
The program will take place from March 27 to April 24, 2023, and will be conducted via Zoom.
Don't miss out on current updates, kindly like us on Facebook & follow us on Follow @Eafinder OR leave a comment below for further inquiries.