The Kenya Accountants and Secretaries National Examinations Board (KASNEB) has issued an alert to all prospective candidates who intend to sit for the April 2023 exams. The deadline for registration and booking for the exams is set for Friday, March 24, 2023.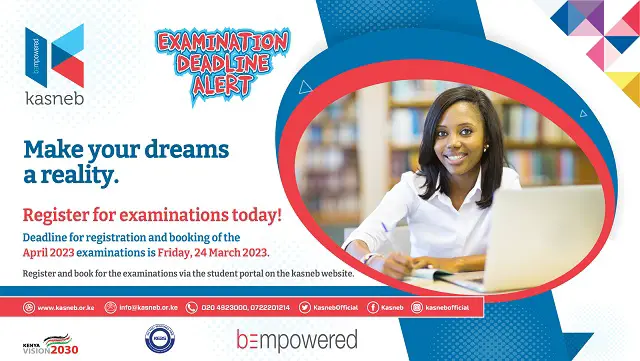 The announcement was made via Twitter by KASNEB's official account. The board has emphasized the importance of meeting the deadline and not just settling for it, but rather aiming to beat it. [1]
Therefore, students are urged to take immediate action by registering and booking their exams via the student portal on the KASNEB website.KASNEB is a professional examination body established in 1969 under the Kenyan Accountants and Secretaries Act, to offer professional, diploma, and certificate courses in accountancy, finance, and related disciplines. The board's primary mandate is to promote and regulate education, training, and professional development in accountancy, finance, governance, management, and other related fields in Kenya.
The upcoming April 2023 exams are critical for those who wish to advance their careers in the accountancy and finance sectors, and the deadline for registration and booking is quickly approaching. KASNEB is known for administering rigorous exams, and candidates are advised to start preparing early to maximize their chances of success.
The registration process for the exams is straightforward and can be completed online via the student portal on the KASNEB website. Candidates must ensure that they have met all the requirements before registering, including the payment of the registration and examination fees, which vary depending on the level of the exam.
After completing the registration process, students are required to book their exams through the KASNEB student portal. The booking process allows candidates to select their preferred examination center and session, as well as other exam-specific details.
It is essential to note that KASNEB's registration and booking system is entirely online, and no manual applications are accepted. Therefore, candidates are urged to register and book their exams well ahead of the deadline to avoid any last-minute challenges or disappointments.
In conclusion, the deadline for the registration and booking of the April 2023 KASNEB exams is just around the corner. Students who wish to advance their careers in the accountancy and finance sectors are urged to take advantage of this opportunity and register for the exams via the student portal on the KASNEB website. By meeting the deadline, candidates can rest easy and focus on their studies and exam preparations, knowing that they have secured a place to sit for the exams.
Reference
KasnebOfficial. "Meeting a Deadline Is Not Good Enough, Beating the Deadline Is Our Expectation #jipangemapema Pic.twitter.com/atjh1ljyj7." Twitter, 24 Feb. 2023, https://twitter.com/KASNEBOfficial/status/1628994139445493760.
Don't miss out on current updates. Kindly like us on Facebook & follow us on Follow @Eafinder OR leave a comment below for further inquiries.