We are happy to present to you information on the University of Zambia, UNZA 52nd Graduation Ceremony as well as the graduation list. The management of the institution has released the official dates and information on the 52nd graduation ceremony as well as list.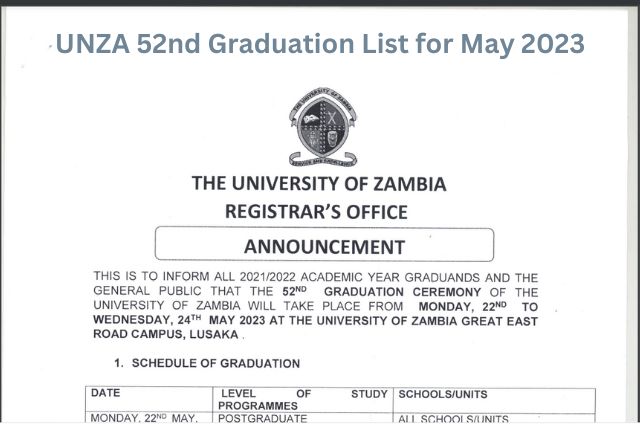 Therefore, all prospective and successful graduands can check their names below or on the university website.
UNIVERSITY OF ZAMBIA, UNZA 52ND GRADUATION LIST AND CEREMONY 
The University of Zambia is pleased to announce its 52nd Graduation Ceremony, taking place from Monday, 22nd to Wednesday, 24th May 2023 at the Great East Road Campus, Lusaka. 1Unza.Zm, https://www.unza.zm/sites/default/files/article_files/2023-03/2023%20Graduation%20Announcement%20Final.pdf. Accessed 24 Apr. 2023. All 2021/2022 academic year graduands and the general public are invited to attend and celebrate the achievements of these outstanding students.
The graduation ceremony will be held across three days, with each day focusing on different levels of study and programs. Below is the schedule of graduation:
Monday, 22nd May 2023
Postgraduate: All Schools/Units
Undergraduate:

Medicine
Public Health
Nursing Sciences
Health Sciences
Veterinary Medicine
Tuesday, 23rd May 2023
Undergraduate:

Agricultural Sciences
Engineering
Natural Sciences
Humanities and Social Sciences
Institute of Distance Education
Graduate School of Business
Law
Mines
Wednesday, 24th May 2023
Undergraduate: School of Education (Full-time and Extension Studies)
Examination Results:
Graduands should ensure they have received their final examination results and have met all requirements for their degree program before participating in the graduation ceremony.
List of Graduands:
The list will be posted as soon as it is approved. Continuously keep on confirming with your Department if you have met the Graduation Requirements.
Any potential graduand whose name is not on the list is expected to visit his/her School immediately.
Verification of Academic Records and Order of Names:
Graduands must verify their academic records and the order of their names with their respective schools, units, or directorates. This is to ensure the correct information is included in the graduation program and on their degree certificates.
Clearance and Fees
Graduands must complete the final clearance procedures as follows:
Fulfill all financial obligations to the university.
Obtain a clearance form from the Dean of Students Affairs Unit, then proceed to clear with: a. Your respective schools/units/directorates; b. University Library; and c. Student Finance.
Pay a participation fee of K400.00 either by card swiping at Academic Affairs Accounts Office Room 2 or bank deposit using the following bank accounts:

Zambia National Commercial Bank (ZANACO): Account Name – UNZA Registrar's Department, Account Number – 0306506302182, Branch – UNZA Agency
First National Bank of Zambia (FNB): Account Name – UNZA Registrar's Department, Account Number – 62607694371, Branch – Acacia Business Park
Standard Chartered Bank Zambia: Account Name – UNZA Registrar's Department, Account Number – 0100110273800, Branch – Main Branch

Submit the deposit slip to the Office of the Accountant, Academic Affairs, Room 2 to obtain the UNZA official receipt.
Provide acceptable evidence of clearance at the Academic Office in one of the following rooms: 6, 8, 10, or 14.
Registration for Participation in the Graduation Ceremony
Graduands must register for participation in the graduation ceremony at the following designations:
Postgraduate: Directorate of Research and Graduate Studies (DRGS)
Full-time Undergraduate Graduands: Learning Teaching Centre (LTC) Computer Lab (next to Confucius Institute)
Distance Education Students: Institute of Distance Education Offices (Jesmondine)
Graduate School of Business Students: Graduate School of Business Offices
Academic Attire
Graduands are required to wear the appropriate academic attire for their degree program during the graduation ceremony. Information about renting or purchasing academic attire will be provided by the university. Graduands should ensure they have their academic attire ready and in good condition before the ceremony.
Punctuality
Graduands must arrive at the ceremony venue on time and be seated at least 30 minutes before the event starts. Latecomers may not be allowed to participate in the procession or receive their degree certificates on stage.
Other Important Information
Please note the following additional information:
Graduands who do not complete the final clearance as outlined above will not be allowed to participate in the graduation ceremony.
Registration for participation in the graduation ceremony will not be allowed beyond 30th April 2023.
Photographers and vendors who wish to register for the event should do so at the Public Relations Unit during the same period.
Congratulations to all the successful graduands that made it out of the University of Zambia.
Don't miss out on current updates, kindly like us on Facebook & follow us on Follow @Eafinder OR leave a comment below for further inquiries.