Higher Education Loan Board (HELB) | HELB Student Portal | studentportal.helb.co.ke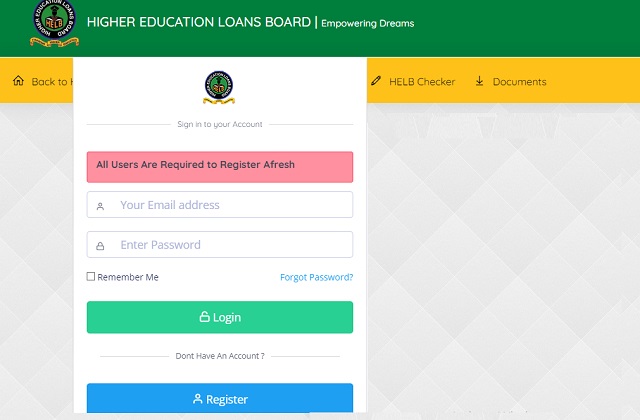 The cost of learning in Kenyan universities is way above the ability of a majority of households. In order not to allow great grades to go to waste, the Higher Education Loans Board (HELB) was created. So basically, loans can easily be accessed  for this major purpose. Higher Education Loans Board is therefore, an organization that is responsible for  financing students through loans and scholarships for training at public institutes, which are recognized by the Ministry of Education of Kenya.
HELB loans can be accessed on the platform's online portal. This means that, in order to have access to the loan, one needs to register online first. Those interested in the loan must also be Financial Literate before applying for HELB Loan.
The Student Portal gives you immediate access to numerous resources at HELB. The system is very easy to use. When you register and login, you will have access to everything ranging from loan applications to  allocation and disbursement status. The portal is flexible. Any registered or existing students can have free and unlimited access to the portal.
Below is a breakdown of the process.
HELB Registration
First of all, register through the HELB portal and create an account. To create an account or to login, you will require your credentials to get started.
Using any of the web browsers such as Chrome, Mozilla Firefox or Opera, visit the HELB loan portal helb.co.ke
Select a product and click on it. It all depends on what you intend to do on the portal.
You will be forwarded to the HELB student portal.
Select "Register" and type in the necessary information which includes your First Name, Middle Name, Last Name, Identity Card Number, and Valid Email Address and then input a Password you can easily remember. Ensure to use an email that is functioning because that is what HELB will be using to communicate to you as well as giving you updates on the status of your loan. You can also check on the status by login into your HELB account online.
Click on "Sign Up" and get an activation link sent to your email address.
Once the mail is sent, go to your personal email address and click on the HELB portal activation link.
On the HELB page, log in to your personal account.
Fill in your personal and residence details and click "Save"
Upon completion, you will be ready to apply for your loan, HELB bursary or HELB scholarship.
HELB Application Requirements
Inorder to apply for HELB loans, you will need the following:
A copy of your National Identification Card. This will also be required when creating an online HELB account.
A Valid bank account. HELB requires details of your valid bank account to enable it to deposit the money to your account at the beginning of each semester. Some of the Preferred Banks For HELB include;

National Bank of Kenya
Kenya Commercial Bank ( Post Office KCB)
Savings Bank (Postbank)
Equity Bank.
Cooperative Bank of Kenya, Kenya, etc.

You will also need a Kenya Revenue Authority (KRA) pin. This will enable HELB to track you as its borrower.
Yours parents/ guardian details: name, marital status, level of education, the source of income, employee details, current pay slip and employee Number (in case they are employed).
For orphans, they are required to provide their parents' death certificates.
A letter of admission to the higher learning institution.
Copies of two guarantors Identification Cards and their three colored passport size photographs
When done with the HELB application process, click on the portal's login button and you will be redirected to the main page of the website, where you now choose the needed HELB application form.
The forms vary from:
Salaried Applicants,
Alternative Loans for Undergraduate,
Alternative Loans for Postgraduate,
Postgraduate Scholarship Training, etc.
Click on the relevant HELB application form and you will get to the application form page. Fill in all the required fields. Download and print two copies of the filled application forms. Please note that the copies should be correctly filled, signed and stamped by the relevant authorities and guarantors. Sign the application form, and attach all the required documents.
HELB Offices Where a Correctly Filled Loan Form Can Be submitted include;
Eldoret
Nairobi
Kakamega
Nakuru
Mombasa
You can also present your form to the HELB Student Centre on Mezzanine One, Nairobi.
The applicant should keep the second copy safely together with his or her other documents.
Later on, you will be contacted on the success or rejection of your loan application. Sometimes you are given a lesser amount than what you applied for.
HOW TO ACCESS/LOGIN TO THE HELB  STUDENT PORTAL
To Sign into the HELB (Higher Education Loans Board) portal check the following steps below.
Open your internet browser e.g. Internet Explorer, Chrome, Firefox, etc.
Go to http://www.helb.co.ke/
Kindly log in with your username and password
Once logged in, you will be able to perform any of the academic activities.
HOW TO RECOVER YOUR HELB STUDENT PORTAL FORGOTTEN PASSWORD?
To reset your password, submit your username or your email address. If you are found in the database, an email will be sent to your email address, with instructions on how to get access again.
HELB STUDENT PORTAL LOGIN ADDRESS:
HELB OFFICIAL WEBSITE:
HELB CONTACT ADDRESS
Head Office
Anniversary Towers, 19th Floor
P.O Box 69489-00400
Nairobi
Student Service Centre
Mezzanine One (M1) Floor Anniversary Towers
Operating Hours: 9.00am – 3.00pm
Service Offered: Loan Disbursement Enquiries
Customer Experience Centre
Ground Floor Anniversary Towers
Operating Hours: 9.00am – 3.00pm
Service Offered: Loan Repayment, Compliance & Clearance and HELB Jielimishe Loan Enquiries.
Cash Office
18th Floor, South Wing, Anniversary Towers
Operating Hours: 9.00am – 3.00pm
Service Offered: Cheque receiving & receipting
Contact Centre
TEL: 0711052000
Twitter: @HELBpage
Facebook: @HELBpage
Operating Hours: 9.00am – 3.00pm
Service Offered: All Enquires
Read Also:
Don't miss out on current Updates, kindly like us on Facebook & follow us on Follow @EAfinder OR leave a comment below for further inquiries.