Makerere University, MAK 2023/2024 Admission requirement for all the courses at the Postgraduate, Masters and PhD level is updated every year. Therefore, this article contains the full list of all the Postgraduate courses coupled with their general requirements.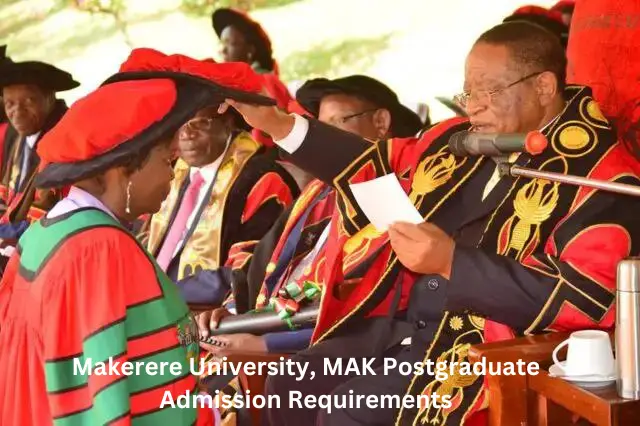 For admission into programmes of study at the Makerere University, MAK for any second degree, an applicant must have the following requirements for a successful admission.
MAKERERE UNIVERSITY, MAK POSTGRADUATE ADMISSION REQUIREMENT
Minimum Entry Requirements for Postgraduate Diploma Degree
Normally a Bachelor's degree or its equivalent from a recognised University in a subject or subjects relevant to the course applied for.
Each programme has its Admission requirements stipulated under the Faculty/School/Institute Website.
Duration of Programme: 1 Academic Year
Minimum Entry Requirements for Master's Degree
Application forms may be obtained from the Director, Board of Postgraduate studies upon payment of a prescribed Non-refundable fee and returned duly completed.
Normally a Bachelor's degree of at least second class, lower division or equivalent from a recognised University.
Applicants with lower qualifications must satisfy the relevant department and the Postgraduate Admissions Board that they have acquired academic growth, for instance, by evidence of research and publications or a relevant Postgraduate Diploma of Second class division.
In some departments, a qualifying course followed by examination is given.
Duration of Programme:
Full time – 2 Calendar years
Part-time – 3 Calendar years
Master of Medicine degree: Full time – 3 Calendar years
Minimum Entry Requirements for Doctorate Degree
Candidates wishing to pursue a Doctor of Philosophy (PhD) programme at Egerton University must meet the following requirements:
Normally a Master's degree from a recognised University in a field relevant to the area of further studies.
First-degree graduates who wish to register for PhD would normally register for a master's degree first and after a year or two of satisfactory progress may apply for the upgrading of their candidature to PhD level.
A research outline (synopsis) of 3-5 pages length should accompany the application.  This will be useful as a guide for PROVISIONAL ADMISSION for one year during which time the applicant will develop a comprehensive research proposal necessary for a FULL ADMISSION as soon as the proposal is approved.
Duration of Programme:
Full time – 3 Calendar Years
Part-time – 5 Calendar Years
Extension of Study Duration
With special permission, these periods may be extended as the Board of Postgraduate Studies and Research may consider reasonable.
Under no circumstances will a candidate be allowed to submit a thesis for examination unless he/she has been under regular and approved supervision for at least one year for a Master's degree and two years for a Doctoral degree.
Please note that applications open in January and Close in March/April each year
Don't miss out on current updates, kindly like us on Facebook & follow us on Follow @Eafinder OR leave a comment below for further inquiries.