This article contains information on the Role of Technology in Enhancing Study Abroad Experiences.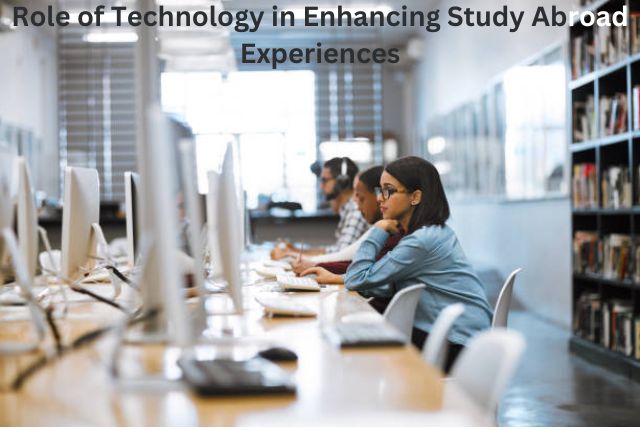 Education has always been a journey of exploration, and with the advent of study abroad programs, students are no longer confined to learning within the boundaries of their home countries. These programs offer students the chance to immerse themselves in a new culture, engage with different perspectives, and gain invaluable life experiences. However, the path to studying abroad is fraught with challenges. From the complexities of the application process to language barriers and cultural shock, there are many hurdles to overcome. This is where technology comes into play. With innovative solutions and digital advancements, technology is playing a transformative role in enhancing the study abroad experience, making it more rewarding and less overwhelming for students.
Understanding the Study Abroad Landscape
Before delving into the impact of technology on studying abroad, it's crucial to understand the landscape. A crucial aspect of the study abroad journey is the choice of course. Students worldwide are increasingly choosing interdisciplinary and tech-centric courses like an MS in Machine Learning in the USA. These programs offer students a comprehensive understanding of advanced concepts and provide a platform to apply their learning in real-world scenarios.
Technology as a Guide
Technology is a trusted companion for students navigating the complex study abroad journey. From researching the best universities and programs to managing applications and visa processes, digital tools and platforms have transformed the way students plan their study abroad journey. Mobile apps, online forums, and dedicated websites provide a wealth of information and resources, making the process less daunting.
Enhancing Language Skills and Cultural Understanding
Language barriers and cultural differences pose significant challenges for students studying abroad. Technology helps bridge this gap with tools like language learning apps, online cultural exchange platforms, and global collaboration tools. These digital resources help students adapt to their new environment quickly and effectively.
Virtual Reality and Augmented Reality in Education
Virtual Reality (VR) and Augmented Reality (AR) are revolutionizing the education sector, and their impact is profound in the context of studying abroad. These technologies provide students with a virtual tour of their chosen university, its campus, and the city, helping them familiarize themselves with their new surroundings before they even set foot on foreign soil. Additionally, AR and VR can be used to create immersive learning experiences, enhancing understanding and retention of complex concepts, particularly in fields like science, engineering, and medicine.
Decoding the Study Abroad Journey with AI and Machine Learning
Artificial Intelligence (AI) and Machine Learning are not just subjects to be studied in a course like an MS in Machine Learning in the USA, but they're powerful technologies reshaping the study abroad journey. AI-based chatbots and digital assistants can guide students through the application process, provide personalized course recommendations, and even predict admission chances based on past data. With machine learning algorithms, these digital tools continually improve their responses, making them more accurate and valuable for students.
Harnessing the Power of Social Media
Social media platforms are a goldmine of information for students planning to study abroad. From connecting with current students and alumni to getting a glimpse of campus life and university events, social media is an invaluable tool. Platforms like Facebook, LinkedIn, and Instagram also host various groups and communities where students can interact, share experiences, and seek advice.
The Emergence of EdTech Startups
The intersection of education and technology has given rise to numerous EdTech startups worldwide. These companies are developing innovative solutions to simplify the study abroad process. From comprehensive platforms that aggregate information about universities and Study Abroad Courses to apps that connect students with local hosts or roommates, these startups are leveraging technology to address the unique challenges of studying abroad.
Blockchain in Education
Blockchain, the technology behind cryptocurrencies, is making inroads into the education sector. Universities are exploring its potential for secure storage and sharing of academic credentials. This could simplify the admission process for international students, as universities can quickly verify their academic records on a decentralized and transparent network.
Data Analytics for Personalized Learning
Data analytics is another technology enhancing the study abroad experience. By analyzing students' academic performance, learning styles, and preferences, universities can deliver a personalized learning experience. This not only improves academic performance but also enhances student engagement and satisfaction.
Technology and Sustainability in Education
Sustainability is a growing concern in all sectors, including education. Universities are leveraging technology to reduce their carbon footprint and promote sustainability. From online document submission to virtual classrooms and digital libraries, these initiatives not only enhance the study abroad experience but also contribute to a more sustainable future.
The Future of Studying Abroad with Technology
As we look to the future, the role of technology in enhancing the study abroad experience will continue to grow. Emerging technologies like the Internet of Things (IoT), 5G, and quantum computing will further transform the education landscape. Whether it's smart campuses that use IoT for efficient resource management or quantum computing's potential to solve complex scientific problems, the future promises exciting possibilities.
Online Learning and MOOCs
The role of online learning in enhancing study abroad experiences cannot be overstated. With the rise of Massive Open Online Courses (MOOCs), students can access Study Abroad Programs from anywhere in the world. This allows them to gain a head start on their studies, prepare for the academic rigor of their chosen program, and build a global learning community even before they begin their study abroad journey.
Digital Tools for Everyday Life
Beyond academics, technology assists students in managing their everyday life abroad. From finding accommodation and managing finances to exploring local attractions and staying connected with family back home, there are digital tools for everything. These technologies enable students to focus on their studies and make the most of their study abroad experience.
Conclusion
Technology, with its transformative power, is revolutionizing the study abroad experience, making it more accessible, rewarding, and less daunting. From AI streamlining the application process to online learning platforms enhancing academic preparedness and digital tools addressing mental health, technology has become an indispensable ally for students studying abroad. EdTech startups, social media platforms, and blockchain are creating a comprehensive ecosystem that caters to the unique needs of international students, demonstrating the holistic approach technology brings to this journey.
Looking towards the future, emerging technologies like IoT, 5G, and quantum computing promise to further redefine the study abroad experience. As we witness the dawn of smart campuses, high-speed connectivity, and advanced computing power, it's clear that the symbiosis of technology and international education will continue to evolve. This evolution is not just enhancing the learning experience but also fostering global connections, contributing to sustainability, and shaping students into global citizens.
About the Author
Nisha Nemasing Rathod works as a Technical Content Writer at Great Learning, where she focuses on writing about cutting-edge technologies like Cybersecurity, Software Engineering, Artificial Intelligence, Data Science, and Cloud Computing. She holds a B.Tech Degree in Computer Science and Engineering and is knowledgeable about various programming languages. She is a lifelong learner, eager to explore new technologies and enhance her writing skills.