Application for the UON Paediatric Anaesthesia Fellowships in Kenya: 2023/24 is now open.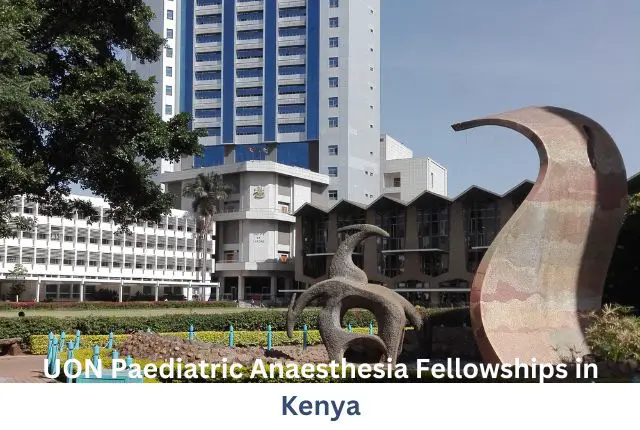 The University of Nairobi is excited to announce the opening of applications for three Paediatric Anaesthesia Fellowship positions for the 2023/24 academic year. These prestigious fellowships offer an unparalleled opportunity for early-career anaesthesiologists to further their education and skills in the field of paediatric anaesthesia.1Harris, Sophie. "Applications Open: Paediatric Anaesthesia Fellowships, Kenya 2023/24." WFSA, 2 May 2023, https://wfsahq.org/news/latest-news/applications-open-paediatric-anaesthesia-fellowships-kenya-2023-24/.
UON Paediatric Anaesthesia Fellowship Benefits
Successful applicants will enjoy the following benefits:
A 12-month fellowship program starting in October 2023
Funding for tuition, accommodation, and subsistence living expenses
Rotations through Kenyatta National Hospital, Gertrude's Children's Hospital, Mater Hospital, Kijabe Hospital, and CURE Kenya Orthopaedic Hospital
Teaching provided by local faculty and visiting specialists
Access to a robust online learning platform with global facilitators
UON Paediatric Anaesthesia Fellowship Eligibility
All applicants must meet the following criteria:
Be a registered medical practitioner in their country of origin
Be eligible for registration with the Kenya Medical Practitioners and Dentists Council
Receive support from their national anaesthesiology society (which must be a member society of the WFSA)
Obtain a letter of recommendation from their head of department or hospital management
Commit to returning to their home country to a recognized post upon completion of the fellowship
Preference will be given to applicants working in Central and East African countries, but older anaesthesiologists and those from other African countries are encouraged to apply as well
UON Paediatric Anaesthesia Fellowship Application Procedure
To apply for the Paediatric Anaesthesia Fellowship, follow these steps:
Visit the WFSA online application platform: https://wfsagrants.awardsplatform.com/
Select "Fellowships" under Chapter and "Nairobi Paediatric Fellowship 2023/24" under Category
Complete the application form and upload the required documents, including:

Curriculum vitae with a recent photo and two referees
Letter of recommendation from your national anaesthesiology society
Letter of recommendation from your head of department or hospital management
Copy of your medical degree
Copy of your specialist anaesthesiology qualification
Copy of the photograph page of your passport
University of Nairobi (UoN) Application Requirements
In addition to the WFSA application, applicants must also apply directly to the University of Nairobi. This online application requires the following documentation:
Filled online application found on the UoN application portal
Certified copies of undergraduate medical degree and specialization in Anaesthesia
Certified transcripts from Undergraduate degree and Anaesthesia degree/fellowship
Certified High School certificates
Letter/certificate of good standing from your country's registering authority
Valid police clearance from your country of residence (before arrival)
Official translations of non-English documents by a recognized translation service
Evidence of Yellow fever and Hepatitis B vaccinations
Please note that the UoN application process is stringent and all documentation must be provided for your application to be considered.
UON Paediatric Anaesthesia Fellowship Application Dates
The deadline for applications is May 31st, 2023. A panel of anaesthesiologists selected by the WFSA will review the applications, and successful candidates will be informed by June 2023. Those who receive offers must confirm their acceptance within two days, or the scholarship will be offered to the next applicant.