We are pleased to announce that the application for the 2024 TuksSport Sport Performance Support Bursary is now open.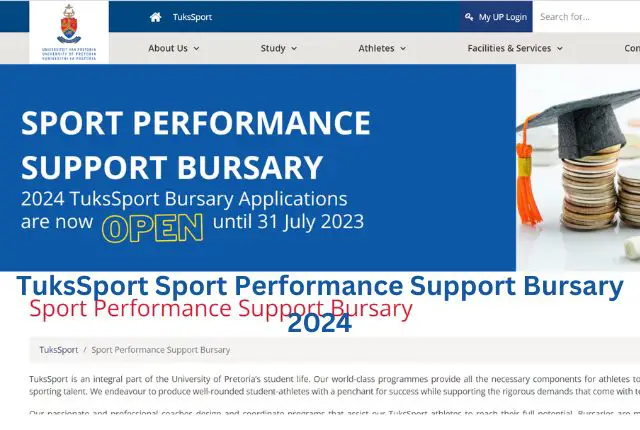 The University of Pretoria's TuksSport is a cornerstone of student life, offering world-class programmes that nurture and develop sporting talent. The institution is committed to producing well-rounded student-athletes who can balance the demands of academic life with a passion for sporting success. As part of this commitment, TuksSport offers the Sport Performance Support Bursary, a yearly initiative designed to support individuals who join, participate in, and excel in their respective disciplines at the University of Pretoria.
TuksSport Sport Performance Support Bursary Benefits
The Sport Performance Support Bursary offers a range of benefits to successful applicants:
Financial Support: The bursary provides financial assistance, easing the burden of tuition fees and allowing students to focus on their academic and sporting pursuits.
Professional Coaching: TuksSport's passionate and professional coaches design and coordinate programmes that assist athletes in reaching their full potential.
Broad Range of Disciplines: The bursary is available to students participating in a wide range of sports, from archery and athletics to wrestling and volleyball. You can find a full list of sports codes on offer at TuksSport here.
TuksSport Sport Performance Support Bursary Eligibility
To be eligible for the Sport Performance Support Bursary, applicants must meet the following criteria:
Be a full-time registered student who has been accepted for their planned study course at the University of Pretoria.
Apply for a bursary for one sport code only. Double funding is not permitted.
If under the age of 18 years, the application form must be signed by a legal guardian.
Be prepared to reapply annually for the bursary, as it is reviewed each year based on academic and sporting performance.
Understand that the bursary is refundable to the university if the student does not adhere to the contractual agreements, or if the student cancels their studies.
Please note that you do not have to study Sport to apply for a Sport Bursary, but you should ensure that the University offers the specific sport for which you are applying.
TuksSport Sport Performance Support Bursary Application Procedure
To apply for the Sport Performance Support Bursary, please note the following:
Incorrect and/or incomplete information will lead to the immediate cancellation of the application.
Each application will be acknowledged within 3 weeks from the date of application. If you do not receive an acknowledgment within this period, it is your responsibility to follow up.
Successful applicants will be required to sign a contract with the University of Pretoria annually, agreeing to the expectations, conditions, and rules as set out by the University.
Application Dates
Applications for the 2024 TuksSport Bursary are now open and will close on 31 July 2023.