We are pleased to present to you an updated list of South African National Parks' (SANParks') latest vacancies for August 2023 and how to apply. It involves the job titles, roles, and responsibilities, as well as the requirements and salary involved.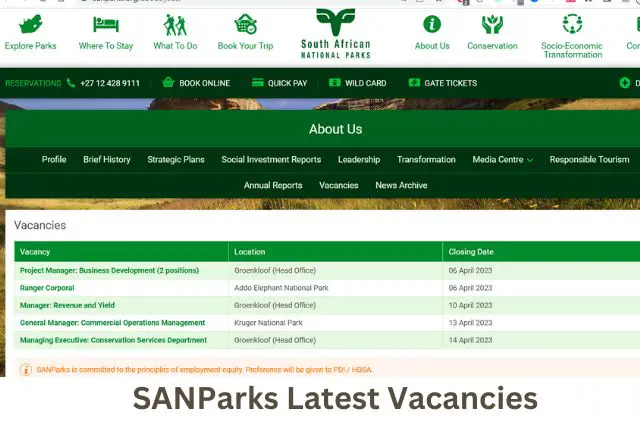 Every year, the South African National Parks (SANParks) publishes vacant positions for interested and qualified South African citizens to apply for. This year is no exception. Therefore, the jobs are listed below together with their requirements, roles, salaries, and qualifications.
SANParks is working towards being a major connector between societies. This has seen the vision of "Custos Naturae" slowly but surely progress to the vision of today as "A Sustainable National Parks System, Connecting Society."
As a leading conservation authority, SANParks is a public entity under the jurisdiction of the Department of Environmental Affairs, where inclusive conservation, as opposed to previous policies of exclusion, is central to advancing the policies in line with the National Development Framework for Sustainable Development and the national development plan. SANParks manages a system of 19 functional national parks in seven of the nine provinces of South Africa, with a total area of just over 4 million hectares, comprising 67% of the protected areas under state management. SANParks of today is recognized as a world leader in conservation and protected area management. In the last two decades, seven new national parks have been established, totaling over 700 000 hectares, with much of this being in the underconserved biomes such as the Succulent Karoo and Fynbos.
This circular is published on a weekly basis and contains advertisements for vacant posts and jobs in the South African National Parks (SANParks). Although the circular is issued by the South African National Parks (SANParks) Team, they are not responsible for the content of the advertisements. Inquiries about an advertisement must be addressed to the relevant advertising department.
SANPARKS CAREER (VACANT) POSITIONS, ROLES, REQUIREMENTS & QUALIFICATIONS 
Applications are invited from qualified individuals for the positions shown below.
Update: Click here to view other SANParks vacant positions for August 2023
HOW TO APPLY FOR SANPARKS JOBS
Interested persons who meet the qualifications should forward their applications which should consist of a covering letter, detailed Curriculum vitae, certified copies of qualification(s) and Identity Document (certified within the past 6 months) to the following address:
Human Resources Division
SA National Parks
PO Box 787
PRETORIA
0001
Fax: 086 295 4078
Email: jobapplications@sanparks.org
For more information, please send an email to Reginah.Visser@sanparks.org. Please do not send your application to this mailbox; it is meant for inquiries only.
Applicants in possession of foreign qualifications to submit evaluated results by the South African Qualification Authority.
If you have not received a response within 21 days of the closing date, please accept that your application was not successful.
Application Deadline
Applications should reach the SANParks Management on time. As it is based on first-come first-serve basis.
More Job Vacancies:
Kindly like us on Facebook and follow us on Follow @EAfinder or leave a comment below for further inquiries or suggestions.