We are pleased to present to you an updated list of Altron latest vacancies for June 2023 and how to apply. It involves the job titles, roles/responsibilities, requirements and the salary involved.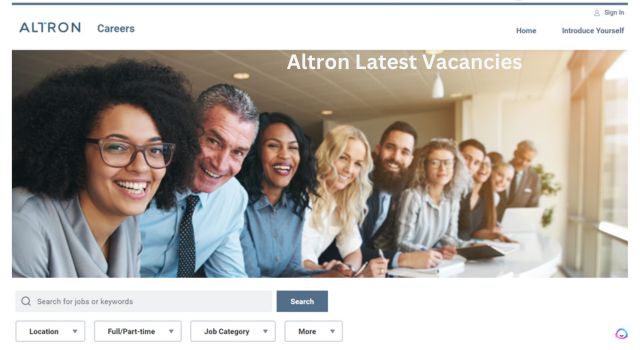 Every year the Altron publishes vacant positions for interested & qualified South African citizens to apply for. This year is no exception. Therefore the Jobs are listed below together with their requirements, roles, salary and qualifications.
This Circular is published on a weekly basis and contains the advertisements of vacant posts and jobs in Altron. Although the Circular is issued by the Altron Team is not responsible for the content of the advertisements. Inquiries about an advertisement must be addressed to the relevant advertising department.
ALTRON CAREER (VACANT) POSITIONS, ROLES, REQUIREMENTS & QUALIFICATIONS 
Applications are invited from qualified persons for the positions shown below.
1. Knowledge & Document Specialist (MCG)

The Cross-Functional Knowledge & Document Specialist will collaborate with the Client and the client's service providers to establish a Document and Knowledge management system which contains information on services provided to the Client, a leader in providing entertainment and phenomenal content from all over the world, to millions of households in sub-Saharan Africa, through cutting-edge technology and platforms – limited to the eco-system of the Integrator. The Knowledge & Document Specialist will provide and maintain a reliable and secure Service Knowledge Management System (SKMS)
Develop and implement a knowledge management system to capture and manage organizational knowledge and documents
Maintain and update documentation processes and procedures
Create and manage document templates, knowledge management policies and procedures
Develop and maintain the document repository, ensuring document version control and accessibility
Maintain a thorough understanding of ITIL 4 best practices
Establish governance practices to manage knowledge management activities, examples:
– Establish clear roles and responsibilities: It is essential to define clear roles and responsibilities for knowledge management activities – this includes identifying who will be responsible for creating, maintaining, and updating the knowledge management system
– Develop policies and procedures: Establishing policies and procedures for knowledge management can ensure consistency and standardization across the organization – this includes guidelines for creating, storing, and sharing knowledge
– Assign accountability: It is important to assign accountability for knowledge management activities. This includes setting performance metrics and holding individuals or teams accountable for meeting these metrics
– Establish communication channels: Effective communication channels are essential for sharing knowledge across the organization
– Establish a feedback loop: Establishing a feedback loop can help to continuously improve knowledge management processes – this includes knowledge management forums to regularly review and update procedures based on feedback from employees and stakeholders
– Monitor and measure performance: Establishing performance metrics and regularly monitoring and measuring progress against these metrics can help to ensure that knowledge management activities are aligned with organizational goals and objectives
Overall, effective governance practices can help to ensure that knowledge management activities are effectively managed and aligned with organizational goals and objectives
Requirements for success in this role are:
3+ years of experience in a similar role, with administrative experience
Bachelor's degree in a relevant field, or equivalent work experience
ITIL 4 Foundation certification is required, with additional ITIL certifications preferred
ISO 9001 certified or suitable experience in managing documents to comply to ISO 9001 standards
Strong knowledge of ITIL 4 best practices
Basic project management certification or course
Excellent communication and interpersonal skills
Education
Bachelor's Degree: Information Technology, National Certificate Level 4 (N4) / Grade 12 (Required)
HOW TO APPLY FOR ALTRON JOBS
To apply for the Technician (Installation) position at Altron, follow these steps:
Visit the Altron Careers website and locate the job posting for the Technician (Installation) position at the Altron Campus in Cape Town, Thomas Pattullo (or use this direct link: Knowledge & Document Specialist (MCG)).
Read the job description and requirements carefully to ensure you meet the eligibility criteria.
Click the "Apply" button on the job posting page to start the online application process.
Create an account or log in to your existing Altron Careers account.
Complete the online application form, providing your personal information, education, work experience, and other relevant details.
Upload your CV and any required supporting documents (such as certificates, transcripts, or licenses).
Submit your application by following the on-screen prompts.
Once your application has been submitted, the Altron recruitment team will review it and contact you if they wish to proceed with the interview process.
Application Deadline
Applications should reach the Alton Management on time. Deadline is based on the position you are applying for as stated.
More Job Vacancies:
Kindly like us on Facebook & follow us on Follow @EAfinder OR leave a comment below for further inquiries or suggestions.