We are pleased to present to you an updated list of the latest Road Accident Fund (RAF) vacancies for June 2023 and how to apply. It involves the job titles, roles, and responsibilities, as well as the requirements and the salary involved.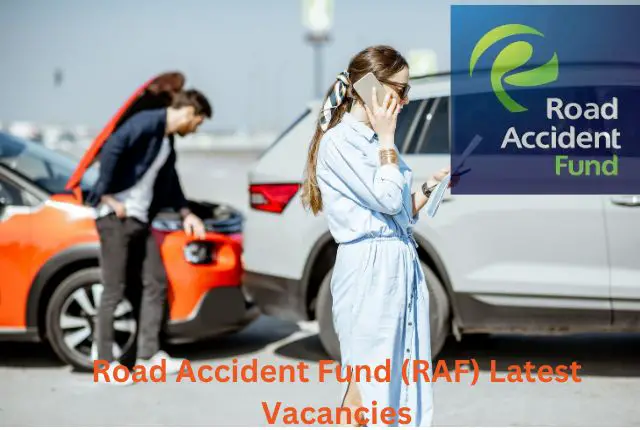 Every year, the Road Accident Fund (RAF) publishes vacant positions for interested and qualified South African citizens to apply for. This year is not an exception. Therefore, the jobs are listed below together with their requirements, roles, salaries, and qualifications.
This circular is published on a weekly basis and contains advertisements for vacant posts and jobs in the Road Accident Fund (RAF). Although the circular is issued by the Road Accident Fund (RAF) Team, they are not responsible for the content of the advertisements. Inquiries about an advertisement must be addressed to the relevant advertising department.
RAF CAREER (VACANT) POSITIONS, ROLES, REQUIREMENTS & QUALIFICATIONS 
Applications are invited from qualified individuals for the positions shown below.
1. Head: Assurance and Monitoring T.A.S.K Level 20
Qualifications and Experience
Bachelor's Degree/ Advanced Diploma in Strategic Management/ Monitoring & Evaluation/ Governance / Compliance related qualification.
Post graduate qualification in Strategic Management/ Monitoring & Evaluation, Governance / Compliance related qualification.
Post graduate qualification in Business Management or Administration will be an added advantage.
Relevant 10-12 years' experience in the integration of different assurance processes (assurance and monitoring and combined assurance) of which 5 (five) years must have been on a senior management level.
Experience of monitoring and evaluation concepts and methods.
Proven experience in data analysis (quantitative & qualitative) and data presentation methods is preferred.
Technical and behavioral competencies required
Strategic capability.
Results orientation.
Compliance and Governance.
Leadership Agility.
Critical and Innovative Thinking.
People management.
Policy Conceptualization and formulation.
Risk management.
Stakeholder development and relations.
Knowledge of Contract and Administrative law.
Strong quantitative and qualitative analysis.
Knowledge on legal research.
Knowledge of legislation and laws that are applicable to the organisation.
Total cost to company applicable to this position is minimum R1 827 182.00 per annum, negotiable.
HOW TO APPLY FOR RAF JOBS
Applications can be forwarded to the Recruitment Officer at the RAF, Cape Town branch; e-mail address is CPTRecruitment@raf.co.za  OR apply online at the RAF Pnet Job application Portal.
INSTRUCTION TO PROSPECTIVE APPLICANTS
Indicate the name and the reference number for the position you are applying for in the subject line.
Do not submit copies of qualifications and ID as these will be requested from shortlisted candidates on the interview date.
Submit a short CV with a maximum of 5 pages.
Please indicate your current salary and salary expectations if considered for the position
The Road Accident Fund subscribes to the principles of employment equity and preference will be given to groups who are under represented in terms of our Employment Equity Plan
NB: 
Applicants who have not received any correspondence from us within six weeks from the closing date can consider themselves unsuccessful
Security Vetting shall be conducted on all prospective employees
 It is the applicants' responsibility to have foreign qualifications evaluated by the South African Qualification Authority (SAQA) and to provide proof of such evaluation.
Application Deadline
Applications should reach the RAF Management on time. As it is based on first-come first-serve basis.
More Job Vacancies:
Kindly like us on Facebook and follow us on Follow @EAfinder or leave a comment below for further inquiries or suggestions.