We are pleased to present to you an updated list of Western Cape Education Department, WCED latest vacancies for August 2023 and how to apply. It involves the Job titles, roles/responsibilities, requirements and the salary involved.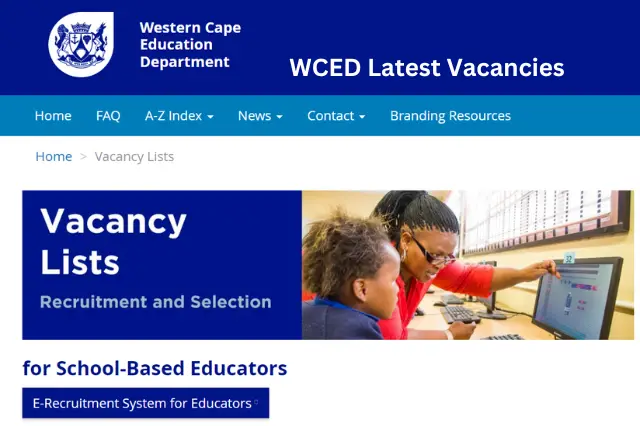 Every year, the Western Cape Education Department (WCED) publishes vacant positions for interested and qualified South African citizens to apply for. This year is not an exception. Therefore, the jobs are listed below together with their requirements, roles, salaries, and qualifications.
,,educationdistricts,headThe Western Cape Education Department is responsible for public schooling in the province, from Grade 1 to 12. Our primary objectives are to improve the language and mathematics skills of learners; to improve matric results; and improve access to quality education in poor communities. The WCED operates in eight Education Districts with a Head office in Cape Town.
The WCED promotes and applies the principles of employment equity and is committed to effective and efficient service delivery. Persons with disabilities are welcome to apply, and an indication in this regard as part of the online registration process will be appreciated. Applicants with disabilities who are shortlisted are requested to provide information on how the selection process can be adapted to suit their needs for purposes of reasonable accommodation. Kindly indicate your disability status to facilitate the process.
This circular is published on a weekly basis and contains advertisements for WCED vacancies and jobs in the Western Cape Education Department (WCED). Although the circular is issued by the Western Cape Education Department (WCED), the team is not responsible for the content of the advertisements. Inquiries about an advertisement must be addressed to the relevant advertising department.
WCED VACANCIES POSITIONS, ROLES, REQUIREMENTS & QUALIFICATIONS 
Applications are invited from qualified individuals for the WCED vacancies shown below.
---
Click here to View/View Western Cape Education Department, WCED Vacancies for August 2023 in PDF
---
 Update: Click here to view more WCED Vacancies for August 2023
HOW TO APPLY FOR WCED JOBS
Please read the instructions carefully before applying.
This post is advertised on the department's on-line
The website can be access via https://wcedonline.westerncape.gov.za/home/, click on vacancies and click on the link: E-Recruitment System for Office-Based and Public
Applicants can register their profiles and apply for posts on-line.
Applicants must ensure that they click on the correct post and post number when applying for
Applicants are to take cognizance of the following:
Applicants already registered on the system: e-Recruitment for Educators need not register again.
All information must be captured on the online profile. The system will generate curriculum vitae (CV) for you. The uploading of documents is not necessary.
When shortlisted for an interview, certified copies of all supporting documentation (e.g. qualifications, driver's licence, identity document, etc.) must be submitted to the interview committee.
Non-RSA citizens/Permanent resident permit holders must submit a copy of his/her Permanent Resident Permit with his/her on-line
Only on-line applications will be considered.
Application Deadline
Applications should reach the Western Cape Education Department (WCED) Management on time. As it is indicated for each positions of interest above.
Read Also:
More Job Vacancies:
Kindly like us on Facebook & follow us on Follow @EAfinder OR leave a comment below for further inquiries or suggestions.