We are pleased to present to you an updated list of Western Cape Government Latest vacancies for June 2023 and how to apply. It involves the job titles, roles, and responsibilities, as well as the requirements and the salary involved.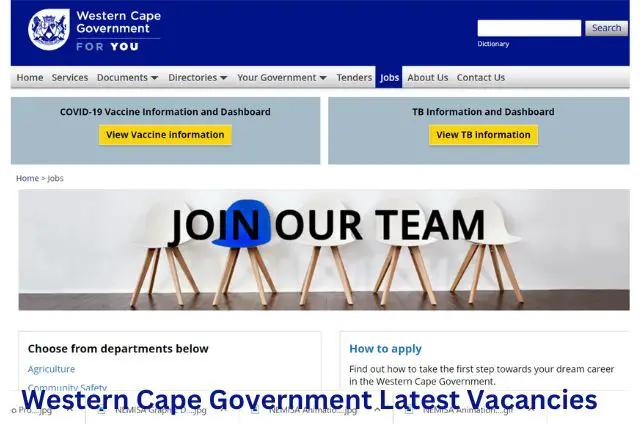 Every year, the Western Cape government publishes vacant positions for interested and qualified South African citizens to apply for. This year is not an exception. Therefore, the jobs are listed below together with their requirements, roles, salaries, and qualifications.
This circular is published on a weekly basis and contains advertisements for vacant posts and jobs in the Western Cape government. Although the circular is issued by the Western Cape Government Team, they are not responsible for the content of the advertisements. Inquiries about an advertisement must be addressed to the relevant advertising department.
WESTERN CAPE GOVERNMENT CAREER (VACANT) POSITIONS, ROLES, REQUIREMENTS & QUALIFICATIONS 
Applications are invited from qualified individuals for the positions shown below.
| JOB TITLE | TOWN / CITY | DATE CLOSING |
| --- | --- | --- |
| Assistant Director: Enterprise Development, Ref No. DEDAT 08/2023 | Cape Town, CBD. | 2023/05/22 |
| State Accountant: Management Accounting, Ref No. DEDAT 07/2023 | Cape Town, CBD | 2023/05/22 |
If you are interested in any of the posts listed above, kindly visit this page to see the requirements and qualifications.
Update: Click here to view more Western Cape Government vacant positions for June 2023
HOW TO APPLY FOR WESTERN CAPE GOVERNMENT JOBS
A. Application phase
Visit www.westerncape.gov.za/jobs and find a job title or area of work that interests you.
Make sure you meet all the requirements and that you have enough time to submit your application and supporting documents.
Follow the instructions on the page and a system profile if you're a first-time applicant on the site, or login with your details if you have previously registered. If you're an existing user, update your details and documents where necessary.
Complete online job application form and answer all the questions honestly. Once you're satisfied with you application, make sure your CV is updated and then submit it.* If you need technical assistance in submitting your online job application make use of the following contact details between 8:00 am to 4 pm, Mondays to Fridays:
Western Cape Department of Health

: 

012 667 4886/ See advert details.
Western Cape Education Department : 0861 923 322
All other departments: 0861 370 202 or send an email to  candidates@erecruit.co.za.
The Western Cape Government will need the following information when you submit an enquiry: the email address used to create your profile, an ID number, a contact number, the desired email address you want to use going forward, and a brief explanation of the issue you're experiencing.
Alternatively, you can visit one of the Cape Access e-centres, our Contact Centre at Town, in Wale Street, Cape Town, or the Western Cape Education Department, Grand Central Towers, Cape Town, where helpful staff will assist you.
Please note:inquiries For inquiries regarding a specific position, please contact the person indicated on the advertisement.
B. Shortlisting phase
Once the closing date has been reached, all qualifying applications will be reviewed and applicants will be shortlisted. If you've been shortlisted, you'll be invited to an interview.
You will also be required to complete a Z83 form and supply certified copies of your ID and qualifications, as well as other documentation.
C. Interview phase
At your interview, you'll be greeted by a panel, who will ask you various questions relating to the position, as well as your employment history and personal interests. You will also have the opportunity to ask questions.
After all candidates have been interviewed, the panel will confer and decide who the individual best-suited to the position is.
D. Acceptance phase
The successful candidate will be contacted and offered an acceptance letter or a letter of appointment. The candidate will need to sign and return the acceptance letter within five working days.
If you have not received any feedback within three months of the closing date of the job advert, please consider your application unsuccessful.
Note:
The Western Cape Government Job Application Website is only for applications made at one of the following departments:
Community Safety
Agriculture
Cultural Affairs & Sport
Department Of Economic Development & Tourism
Department Of The Premier
Environmental Affairs & Development Planning
Human Settlements
Local Government
Provincial Treasury
Social Development
Transport & Public Works
If you wish to apply for jobs at the Departments of Health or Education, please go to the following sites:
How to apply online OR Create an Account/Profile on the Western Cape Government Job website
If this is your first time applying online, please do the following:
1. Click on
SIGN UP
at the top of the page
You will need to have your own valid email address and mobile number. Enter these at the top of the page
Choose a password that will be easy for you to remember
Enter your First Name, Surname, SA citizenship and ID/work permit/passport number
Click SIGN UP button
Click on the link in the email to verify your email address
3. Once your email address is verified, go to MANAGE PROFILE and ensure your profile is complete
4. Upload all required attachments
Only the CV is required
Your CV should preferably be in MS Word or PDF
The maximum file size allowed is 750kb
Other attachments are optional (you can upload them later if needed)
5. Go to the actual job advert and click APPLY
You will be required to answer some additional questions related to this specific job
6. You will receive an email confirming that your application has been received.
If you are not sure, go to MY APPLICATIONS (in the left-hand menu) and check the status of your applications
If you have previously applied online, then all you need to do is click on "Apply" on the job advertisement, sign in using your email address and the password you have chosen, and complete the additional questions.
NB:
Only online applications will be considered unless a manual/offline process is provided in the job advertisement
Only applications made on this website will be accepted
Kindly note that technical support is only available from Monday to Friday (8:30 to 16.00)
Should you experience any difficulties with your online application you may contact the helpline at 0861 370 202
No emailed CV's will be accepted as an application.
Please ensure that you submit your application before the closing date as no late applications will be considered.
Application Deadline
Applications should reach the Western Cape Government Management on time. As it is based on first-come first-serve basis.
More Job Vacancies:
Kindly like us on Facebook and follow us on Follow @EAfinder or leave a comment below for further inquiries or suggestions.