We are pleased to present to you an updated list of Sanlam's latest vacancies for August 2023 and how to apply. It involves the job titles, roles, and responsibilities, as well as the requirements and salary involved.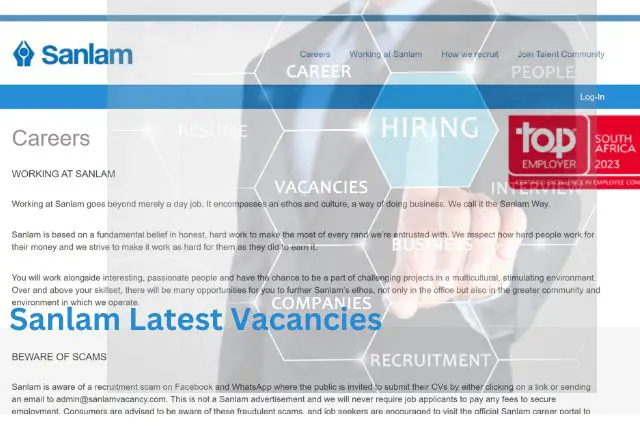 Every year, the Sanlam publishes vacant positions for interested and qualified South African citizens to apply for. This year is not an exception. Therefore, the jobs are listed below together with their requirements, roles, salaries, and qualifications.
This circular is published on a weekly basis and contains advertisements for vacant posts and jobs in Sanlam. Although the circular is issued by the Sanlam Team, it is not responsible for the content of the advertisements. Inquiries about an advertisement must be addressed to the relevant advertising department.
Irrespective of whether you're starting your career or you're an experienced professional, Sanlam offers opportunity in many diverse fields, including accounting, actuarial science, investments, legal, IT, and many more. The Sanlam Group is committed to achieving transformation and embraces diversity. This commitment is what drives us to achieve a diverse, inclusive, and equitable workplace, as we believe that these are key components to ensuring a thriving and sustainable business in South Africa. The group's employment equity plan and targets will be considered as part of the selection process.
SANLAM CAREER (VACANT) POSITIONS, ROLES, REQUIREMENTS & QUALIFICATIONS 
Applications are invited from qualified individuals for the positions shown below.
1. Financial Adviser Polokwane

2. Financial Advisor Ermelo
What will make you successful in this role?
1. Assist in growing the Sanlam Connect Business
Be committed to the marketing plans and targets set for growing and developing the business as set forward by Sanlam Connect.
Apply knowledge and understanding of market segmentation and customer profiles to support sales and growth within the defined market.
Undertake relevant behaviours to attain targets relating to:
Revenue generation (Single and recurring premiums)
Activity quotas
Promote the SanlamConnect brand
2. Networking, prospecting and leads generation
Face to face interactions, social or business, to create business opportunities.
Prospecting of new clients through creative opportunities such as business/social networks, associations or ad hoc presentations.
Turning trusted relationships into business relationships.
Strengthening existing relationships by increasing the current service.
Use existing sources to establish opportunities across Sanlam businesses.
Personalised client value propositions.
Marketing on social media.
Undertake selected client focused activities to generate leads and informal prospecting opportunities.
Mining of existing client base to identify marketing gaps and sales opportunities within the middle-high and affluent market.
Structuring and implementing focused campaigns with new or existing clients in the defined market.
Requesting active and ongoing leads and referrals from others.
Monitoring and respond to client activities such as maturities, cancelations or surrenders within the defined market.
3. Client consultations and sales
Ensure all client interactions are compliant in terms of disclosures and advice given (provide written/ electronic information required for compliance).
Undertake comprehensive fact finding with each client to lift needs and priorities. Document these findings.
Conduct a financial needs analysis, using the relevant e-tools / instruments or systems, to ascertain the client's full financial situation; or utilise the services of a Para-Planner for this. (Draw policy history).
Provide sound personal financial planning advice.
Apply financial knowledge in putting together a plan that meets the needs of the client for a balanced portfolio.
Present financial solutions to the client in a professional and competent manner aligned to Treating Customers Fairly.
Use relevant processes and system tools to capture analysis information and update records accordingly.
Review client's portfolio annually by undertaking the above steps.
4. Client Service
Ensure all client interactions are ethical, courteous and professional.
Follow-up or refer all existing business queries to be resolved timeously through 'back-office' support.
Strive for excellent, value-added service to clients so that they do not seek competitor products or services.
Undertake continuous learning in terms of knowledge, skills and market/industry issues so as to service clients within the defined market.
Initiate long term client relationships and maintain a relational focus.
5. Monitor, update and reporting (weekly/monthly)
Document and present the following activities:
Number and profile of contacts, appointments, consultations.
Issued business and revenue against targets.
Update client details on records.
Appropriate workflow and activity monitor system entries.
Qualification and Experience
Grade 12

Financial Advisory and Intermediary Services Act (FAIS) "Fit and Proper" requirements and Regulatory Examination successfully completed if registered with Financial Sector Conduct Authority (FSCA) for more than 24 months.
Knowledge and Skills
Financial advice and support
Production target achievement and budgeting
Compliance and risk management
Client relationship management
Financial planning and recommendations
HOW TO APPLY FOR SANLAM JOBS
Application Deadline
Applications should reach Sanlam Management on time. As it is based on a first-come first-serve basis.
More Job Vacancies:
Kindly like us on Facebook & follow us on Follow @EAfinder OR leave a comment below for further inquiries or suggestions.