We are pleased to announce that the application for the 2024 SPU Post-Doctoral Research Fellowships is now open.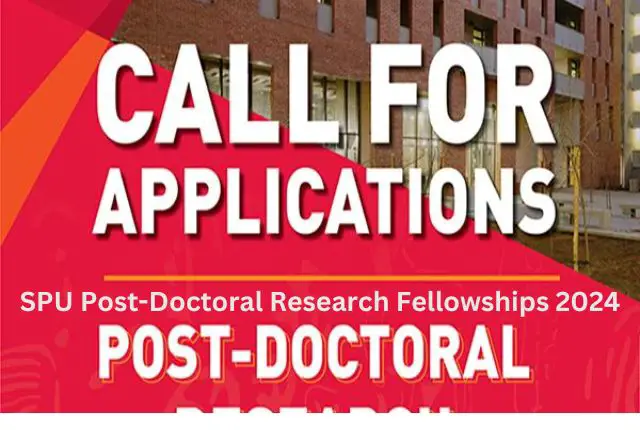 Sol Plaatje University (SPU), a renowned institution in South Africa, is inviting applications for its dynamic and exciting Post-Doctoral Research Fellowships for the 2023-2024 academic year. The Research Office at SPU is offering four unique fellowship opportunities in various fields, providing a platform for recent Ph.D. graduates to further their research and contribute to the academic community. The fellowships are available in the fields of:
Physical and Earth Sciences,
Languages and Communication (Creative Writing),
Early Childhood Development and/or Foundation Phase Teaching,
English Language Education.
SPU Post-Doctoral Research Fellowships Benefits
The Post-Doctoral Research Fellowships at SPU offer a range of benefits designed to support and enhance the research capabilities of the fellows. These include:
Research Support: Fellows are considered an integral part of SPU's research endeavours, contributing to the development of the university's research standing.
Financial Support: The fellows will receive a flat rate, tax-free bursary of R280,000 for one year to cover living expenses, along with an additional R40,000 research expenses fund.
Career Development: The fellowship provides an excellent opportunity for career development in academia and research, with the potential for extension to a second year subject to performance.
SPU Post-Doctoral Research Fellowships Eligibility
The Post-Doctoral Research Fellowships are open to candidates who meet the following minimum requirements:
Completion of a Ph.D. in the last five years in a field relevant to the post-doctoral research topic.
Proven research experience in an appropriate area of specialization relevant to the area of postdoctoral research.
Academic excellence and a good publication record.
Must be 40 years or younger.
Additional recommendations include:
Peer-reviewed, accredited publications related to the area of research will serve as a strong recommendation.
Mentoring of postgraduate students, and some teaching experience at the post-graduate level will serve in the candidate's favour.
Candidates should be proactive, enthusiastic, and interested in doing excellent research that can make a difference and contributes to the objectives of the Schools, SPU, and its partners.
SPU Post-Doctoral Research Fellowships Application Procedure
To apply for the Post-Doctoral Research Fellowships at SPU, candidates must follow the procedure outlined below:
Complete the application form.
Prepare a full Curriculum Vitae.
Provide certified copies of ID document/passport.
Provide certified copies of your academic record.
Obtain two letters of reference.
Write a letter of motivation.
Applications and supporting documentation should be sent to the following email address: postdoctoral@spu.ac.za. Please include "Research Office Post-Doctoral Fellowship + Reference No" in the subject line.
For more information on the application process, you can visit the SPU's official website. For questions regarding the application process, projects, or academic queries, send an email to postdoctoral@spu.ac.za.
SPU Post-Doctoral Research Fellowships Application Dates
The closing date for applications is 2 June 2023.
This fellowship is a fantastic opportunity for post-doctoral researchers to further their academic career and contribute to the research objectives of Sol Plaatje University. For more opportunities like this, keep an eye on EAfinder, your go-to resource for information on educational opportunities in Africa and beyond.