Application is now open for the 2021 Multichoice Bursary for those interested in going into the entertainment industry. It also includes steps on how to apply but you must meet the criteria before applying.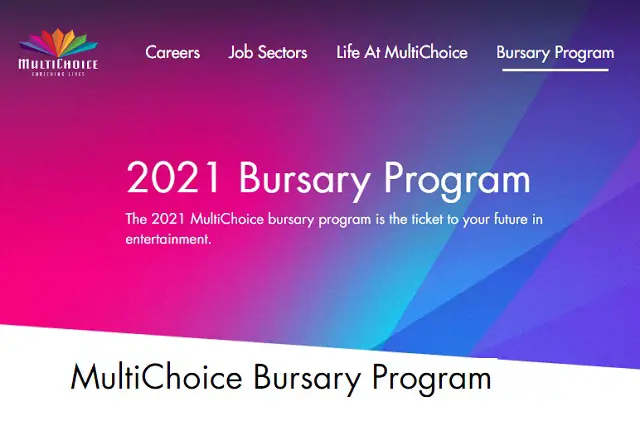 The MultiChoice 2021 Bursary Scheme is now open and we are looking for driven, accountable and lateral thinkers currently studying towards select degrees. Successful recipients will benefit from fully funded: Registration & Tuition fees; Accommodation and Annual living allowance.
Specialist degree or qualification MultiChoice will sponsor
Engineering (Computer, Electrical& Digital)
Computer or Data Science
Applied/Computational mathematics
Information Systems or Technology
Customer Insights technologies
Media, Film or Television Studies
Scriptwriting
Sport Broadcasting
UX or UI or CX Design
Creative or Corporate Brand Communication
Digital Marketing
Economics or Law
Human Resources
Finance (Internal Audit / Financial Accounting)
MULTICHOICE BURSARY ELIGIBILITY
You must be registered at a South African Higher Learning Institute
Bursaries offered to students of all years of study (inclusive of 1st post graduate degrees)
You are studying towards any degree/qualification aligned to MultiChoice focus areas
12 month bursary coverage for the 2021 academic year
Designated South African citizen
Eligibility and qualifying requirements must be met and no late applications will be considered
MULTICHOICE BURSARY APPLICATION INSTRUCTIONS
Application deadline is 31st of January 2023.
Read Also:
Don't miss out on current updates, kindly like us on Facebook & follow us on Follow @EAfinder OR leave a comment below for further inquiries.