We are pleased to announce that the application for the 2023 South32 Apprenticeship and Learnership is now open.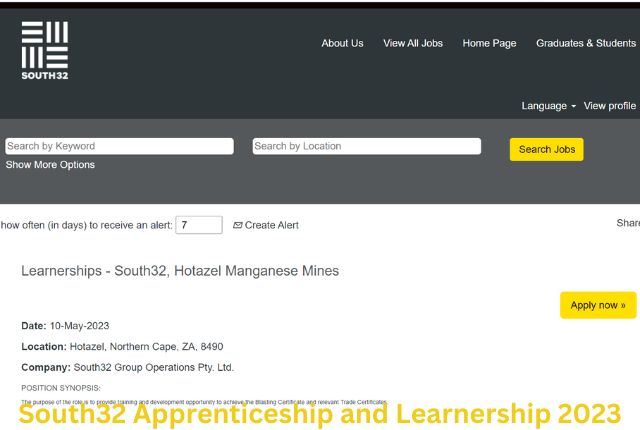 Are you looking for a practical learning opportunity in the mining industry? South32, a globally diversified mining and metals company, is offering learnerships at its Hotazel Manganese Mines in Northern Cape, South Africa. This is not just a learnership, it's a chance to gain hands-on experience and develop your skills in a dynamic mining environment.
Benefits of the South32 Learnership
At South32, learners will enjoy:
Practical Training: The learnership provides a practical training opportunity to achieve the Blasting Certificate and relevant Trade Certificates.
Industry Experience: Gain valuable hands-on experience in the mining industry, one of the key sectors of South Africa's economy.
Career Development: The learnership is a stepping stone to a career in the mining industry, with the potential for further opportunities within South32.
Safety and Environmental Responsibility: South32 is committed to safety and environmental responsibility, providing a safe and sustainable learning environment.
South32 Apprenticeship and Learnership Eligibility
To be eligible for this learnership, you must:
For Learner Miners: Have a Grade 12 qualification.
For Apprentices: Have a Grade 12 qualification and N2 with relevant subjects for Diesel Mechanics, Fitters, Boilermaker, Electricians.
A Public Driver's License will be advantageous.
Previous mining experience will be advantageous.
This training and development opportunity is available to members of the JTG community; proof of residence is essential.
Application Procedure
To apply for this learnership:
Visit the South32 career portal.
Navigate to the learnership listing.
Follow the application instructions provided on the page.
Alternatively, you can submit a hard copy of your Resume in the box that is available at the Hotazel Security checkpoint.
Application Dates
The closing date for applications is 26 May 2023.