This article elaborates on the different National Framework Qualification (NQF) Levels in the South African educational system. It also goes ahead to give a brief history of the NQF system, its relationship with the South African Qualification Authority (SAQA), how it works, and its requirements.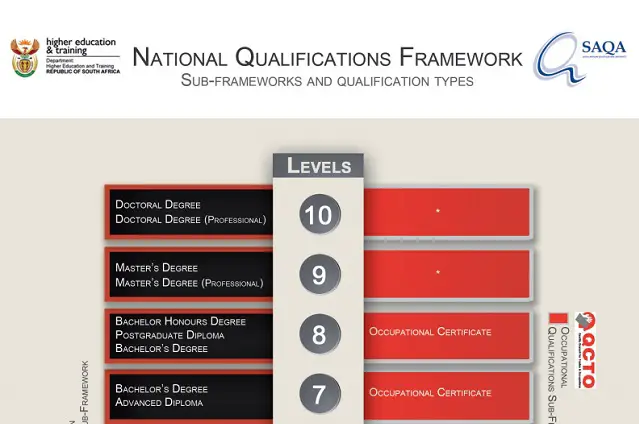 The NQF is the set of principles and guidelines by which records of learner achievement are registered to enable national recognition of acquired skills and knowledge, thus ensuring an integrated system that encourages life-long learning. On the other hand, the NQF refers to a formal system that has been set up to describe one's qualifications.
The NQF, which stands for the National Qualifications Framework, is used to arrange levels of learning achievements. SAQA (the South African Qualifications Authority) has been using this framework since the NFQ Act of 2008. It is a known fact that the educational system of any country is linked to the labour market. As such, South Africa established a link between the educational system and the job market using NQF.
This has not only made job seekers realise how possible it is for them to achieve their dreams but also made the requirements clear for the public. Understanding what the NQF levels mean will make it more transparent for employees to understand the minimum educational requirements for being employed in various positions.
Therefore, if you have ever come across a job requirement that makes mention of NFQ, do not be confused. It simply points to the qualifications they desire the applicants to possess for the stated position.
NQF LEVELS IN SOUTH AFRICA
According to the NQF levels table, there are 10 levels of learning achievement, and every registered South African qualification needs to specify its NQF level, what it will teach the student and enable him or her to do in terms of acquired skills.
Each NQF level signifies a specific standard of intellectual and academic skills, including problem-solving abilities and learner autonomy. So, the higher the NQF level of your qualification, the more intellectually skilled you are. So, the higher the NQF level of your qualification, the more intellectually skilled you are.
The NQF consists of 10 levels divided into three bands: Levels 1 to 4 equate to high school grades 9 to 12 or vocational training; levels 5 to 7 are college diplomas and technical qualifications; and levels 7 to 10 are university degrees.
The different levels are:
NQF level 1: This is the most basic level, and it is offered in the General Education and Training category. It is offered to students between grade four and grade nine.
NQF level 2: This is the second level of the qualification, and it is offered in the Further Education and Training category. Students who have completed their grade ten studies are recognised in this category.
NQF level 3: This is the third category, and it is recognised in the Further Education and Training category. It is used to identify students who have completed grade eleven.
NQF level 4: This is the fourth level of the qualifications category. It refers to students who have completed their grade twelve studies. Students who possess their trade certificate are also identified with this category.
NQF level 5: This is the fifth category of the qualification. It is associated with Higher Education and Training. It identifies students with a National Certificate, National Diploma or any Occupational certificate.
NQF level 6: This is the sixth qualification level, and it falls under the Higher Education and Training category. Learners who possess Higher Diplomas or Bachelor's Degrees are recognised in this category.
NQF level 7: This is the seventh category of qualification, and it is associated with Higher Education and Training. It recognises learners who possess Post Graduate Certificates or Honours Degrees
NQF level 8-10: This is the eighth and highest qualification. It is associated with Higher Education and Training. It is used to recognise those with masters and doctorates.
| | |
| --- | --- |
| Qualification | NQF Level |
| General Certificate | 1 |
| Elementary Certificate | 2 |
| Intermediate Certificate | 3 |
| National Certificate (Matric) | 4 |
| Higher Certificate | 5 |
| Diploma & Advanced Certificate | 6 |
| Bachelor's Degree & Advanced Diploma | 7 |
| Honours Degree & Postgraduate Diploma | 8 |
| Master's Degree | 9 |
| Doctoral Degree | 10 |
NQF CREDITS EXPLAINED
For one to be awarded any of the qualifications mentioned above, they are required to attain the required credits. What do these credits refer to? NQF credits refer to the notional hours that a learner requires to achieve the requirements of their level of studies. The different levels have a set number of credits that one should attain for them to qualify for the stated NQL levels.
These details about the different NQF levels are vital in determining the job position that a job seeker qualifies for. They are also proof of how much the Ministry of Labour and the Ministry of Education have been integrated to ensure that the industries are braced with a competent workforce.
HOW IT WORKS AND ITS RELATIONSHIP WITH SAQA
South African Qualifications Authority (SAQA) is a statutory body working according to the National Qualifications Framework Act 67 of 2008. The body works hand in hand with the Ministry of Education and the Ministry of Labour to develop and implement the National Qualifications Framework.
To achieve its goals, SAQA has set a system that integrates recognised National and International standards of education and training. The body has established a quality assurance team that keeps check of the quality of education being offered in the institutions.
The body also works hand in hand with the National Learners' Records Database to record relevant information regarding the top South African students. SAQA also evaluates the educational qualifications of International students to determine the qualifications equivalent to the South African levels.
BRIEF HISTORY OF NQF
The NQF can be traced back to the labour movement of the early 1970s. From the early 1970s, black trade union demands for a living wage were repeatedly rejected by employers, on the grounds that workers were unskilled and therefore their demands were unjustified (Wikipedia contributors. (2023, February 20). National qualifications framework. Wikipedia, The Free Encyclopedia. https://en.wikipedia.org/w/index.php?title=National_qualifications_framework&oldid=1140615363). This in turn led to black workers seeing training as a means to achieving their demands for better wages. The struggle to persuade employers to agree to worker demands continued into the 1980s and in 1989 the National Union of Metalworkers of South Africa (NUMSA), established a research group comprising workers and union officials, to formulate recommendations on training.
On the assumption that skills development would lead to better wages, an integrated proposal was formulated, based on a staged improvement in skills, linked to grading increments. The proposal stressed the need not only for basic education, without which workers would not be able to access the proposed system, but also for national recognition of training so that workers would not be at the mercy of a single employer. The proposal was formally adopted by the Congress of South African Trade Unions (COSATU) in July 1991.
On October 4, 1995,  the NQF bill which was drafted by  an Inter-Ministerial Working Group was passed into law as the South African Qualifications Authority Act (No. 58 of 1995).
REQUIREMENTS FOR NQF LEVELS
In order to be able to study towards a certain NQF qualification, you need to meet certain requirements. For example, in order to study towards a Bachelor's degree, you need to have finished school, or have completed a NQF 4 qualification
HOW TO QUALIFY FOR SAQA
Looking at 10 main academic skill areas, and depending on your level of NQF qualification, it suggests that the more skilled you are in these areas the higher your NQF level is.
Here are the ten skill areas the NQF focuses on, with a  description of what they imply:
Scope of knowledge: Do you understand what you're studying?
Knowledge literacy: Can you apply that understanding?
Method and procedure: Can you apply specific theories, technique and methods of what you are studying?
Problem-solving: Can you think for yourself, critically, and find solutions to problems?
Ethics & professional practice: Can you stick to codes of conduct and do you understand the values of your society?
Accessing, processing & managing information: Can you interpret and analyze information relating to what you are studying?
Producing & communicating information: Are you able to accurately communicate what you have learned, in words and writing?
Context & systems: Do you understand the systems and environment of your field of study?
Management of learning: Are you able to evaluate and take responsibility for your own learning, as well as the learning of others?
Accountability: Are you able to properly use resources, to be accountable and responsible for your actions, as well as work effectively?
FUNCTIONS OF SAQA
The function of SAQA are majorly:
To oversee the development of the NQF by formulating and publishing policies and criteria for registration of bodies responsible for establishing education and training standards or qualifications and for accreditation of bodies responsible for monitoring and auditing achievements in terms of such standards and qualifications
To oversee the implementation of the NQF by ensuring the registration, accreditation and assignment of functions to bodies referred to above, as well as the registration of national standards and qualifications on the framework.
It also takes steps to ensure that provisions for accreditations are complied with and that registered standards and qualifications are internationally comparable.
To realise this objective, SAQA has established and maintains the following:
A system for setting nationally recognised and internationally comparable education and training standards and qualifications from NQF Level 1 (Grade 9 or Adult Basic Education and Training Level 4 – the exit point from General Education and Training) to NQF Level 8 (post-graduate qualifications);
A national quality assurance system to ensure that education and training is delivered to the set standards;
An electronic management information system which records all relevant information on the achievements of South African learners (the National Learners' Records Database).
SAQA also has the task of evaluating foreign educational qualifications to determine their South African equivalence. People with foreign qualifications who wish to attend South African education institutions or who wish to enter the South African labour market apply to SAQA to have their qualifications evaluated.
SAQA's contribution ensures that South Africans have access to quality education and skills development to improve their lives.
The South African NQF is a single integrated system comprising three co-ordinated qualifications Sub-Frameworks for General and further Education and Training, Higher Education and Trades and Occupations.
OBJECTIVES OF THE NQF
The objectives of the NQF are to:
Create a single integrated national framework for learning achievements;
Enhance the quality of education and training;
Accelerate the redress of past unfair discrimination in education, training and employment opportunities.
Facilitate access to, and mobility and progression within, education, training and career paths;
The objectives of the NQF are designed to contribute to the full personal development of each learner and the social and economic development of the nation at large.
CONCLUSION
All education and training in South Africa fits within this framework. It is national because it is a national resource, representing a national effort at integrating education and training into a unified structure of recognised qualifications. It is a framework of qualifications i.e. records of learner achievements.
Though the NQF levels are representative of certain intellectual and academic competencies, don't forget that these levels do not in any way define you as a person, or what you're capable of. You are not a number in a framework, you're an exceptional  human being. Though academic qualifications can be very important for your future, they don't always determine what you make of your one precious life.
Are you a job seeker and would like to gain more understanding about the SAQA NQF levels? The details in this article will not only help you evaluate the job positions that you are more likely to land but also help you understand the ways of making you increase your chances of landing top-notch work positions.
Read Also:
For more information and inquiries, kindly like us on Facebook & follow us on Follow @EAfinder OR leave a comment below for further inquiries.